New Delhi:
Highlights
Aishwarya wore a light blue dress by Michael Cinco
For her first look, Aishwarya opted a bottle green floor length ensemble
Aishwarya will present her 2002 film Devdas at Cannes again
Aishwarya Rai Bachchan made the first of her red carpet appearances at the Cannes Film Festival
on Friday wearing a dress that would make any Disney princesses jealous. The 43-year-old actress wore a powder blue brocade ballgown by Michael Cinco - she was only missing a pair of glass slippers and her Prince Charming. This is Aishwarya's 16th year at the Cannes Film Festival, where she is one among the knot of actresses and models who represent cosmetics giant L'Oreal. Here are pictures of Aishwarya Rai Bachchan in her red carpet look.
Queen has arrived and we are speechless #AishwaryaAtCannes#LifeAtCannes#CannesQueenpic.twitter.com/NdEBJI6l7n

— L'Oral Paris India (@LOrealParisIn) May 19, 2017
#CannesQueen has arrived! No, we cannot get enough of her! #LifeAtCannespic.twitter.com/PYAB084W06

— L'Oral Paris India (@LOrealParisIn) May 19, 2017
Aishwarya was photographed waving to the cameras as she made her way down the red carpet.
Heaven on Earth! #AishwaryaAtCannes#LifeAtCannes#CannesQueenpic.twitter.com/Jjt8YlSwJB

— L'Oral Paris India (@LOrealParisIn) May 19, 2017
The blue dress is Aishwarya Rai Bachchan's third official look of the day.
She was first spotted in a layered green dress embroidered with colourful flowers
.
Redefining beauty and grace for the sixteenth time! #AishwaryaAtCannes#LifeAtCannes#CannesFilmFestival#Cannes2017#Cannes70pic.twitter.com/4N5PuUwyK8

— L'Oral Paris India (@LOrealParisIn) May 19, 2017
Her second outfit of the day - picture of which was posted by Aishwarya's husband Abhishek Bachchan - was also a floral design in cream:
A few hours ago, Aishwarya was photographed with actress Eva Longoria.
Reunited with our #Lorealista@EvaLongoria#LifeAtCannes#AishwaryaAtCannespic.twitter.com/0NKLEWJoWV

— L'Oral Paris India (@LOrealParisIn) May 19, 2017
This year's Cannes Film Festival is special for Aishwarya Rai Bachchan as the actress is presenting her 2002 movie
Devdas
at the film festival again. She promoted the film at Cannes the year it released, accompanied by co-star Shah Rukh Khan and director Sanjay Leela Bhansali.
Earlier in the day, ahead of her official duties, Aishwarya and five-year-old daughter Aaradhya were spotted out and about in Cannes.
Aishwarya's colleague Deepika Padukone closed her Cannes tour on Thursday while Sonam Kapoor is expected to arrive on Sunday.
Femme fatale, standing tall. #LifeAtCannes#DeepikaAtCannes#Cannes2017#Cannes2017pic.twitter.com/CcF6P4PzFZ

— L'Oral Paris India (@LOrealParisIn) May 18, 2017
Aishwarya Rai Bachchan and Aaradhya
, who accompanied her mother to Cannes since she was a baby, were spotted leaving Mumbai on Wednesday night.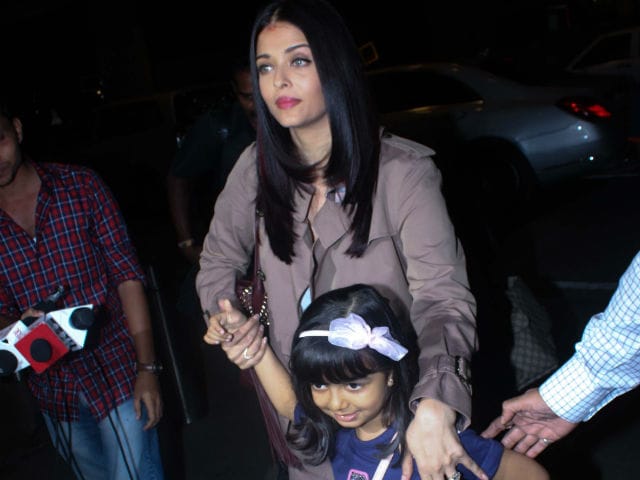 The Cannes Film Festival began on May 17 and will end on May 28. Actresses Shruti Haasan, Mallika Sherawat, Nandita Das and music composer A R Rahman also made an appearance at Cannes.
Get Breaking news, live coverage, and Latest News from India and around the world on NDTV.com. Catch all the Live TV action on NDTV 24x7 and NDTV India. Like us on Facebook or follow us on Twitter and Instagram for latest news and live news updates.