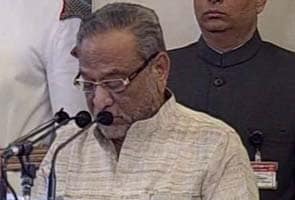 New Delhi:
Mines Minister Dinsha Patel, who has been elevated to Cabinet rank, today expressed the hope that new Mines Bill will be passed in the Winter Session of Parliament paving way for development of tribal areas besides curbing illegal mining.
"The draft MMDR Bill is with the Standing Committee. I am hopeful that it will be passed in the Winter Session. Once it becomes legislation, it would result in the development of tribal areas," he told PTI.
Before today's Cabinet reshuffle in which he was elevated to Cabinet rank, Mr Patel was Minister of State with Independent Charge in the same ministry.
Mr Patel, who represents Kheda constituency in Gujarat, has previously held many portfolios, including MoS in the Micro, Small and Medium Enterprises (MSME) Ministry.
The Mines and Mineral Development and Regulation (MMDR) Bill, 2011 provides for 26 per cent profit-sharing by coal miners with project- affected people. The Bill also provides for 100 per cent royalty to the state government by non-coal miners.
Mr Patel said once the Bill becomes law, it would pave way for development of the far-flung tribal areas as it has provision for district development through profit-sharing.
The royalty too would almost double the benefits the state governments, he said.
"The new Bill has provisions to curb illegal mining and I am confident that it would check the menace," he added.
Royalty paid to the state governments by the miners differs from one mineral to the other. For iron ore, which is the third highest mineral mined in the country after petroleum crude and coal, value-wise, 10 per cent of the sales value at the minehead is charged as royalty.
The total value of mineral production, excluding atomic minerals, in 2010-11, was estimated at Rs 2 lakh crore.
As far as illegal mining is concerned, there are not enough legal provisions for Central intervention in states.
The new Bill has provisions to check the same. Around 69,337 cases of illegal mining were recorded in
2011, while in 2010 the number was 73,115 and in 2009 it was 41,578.
This year 25,713 cases were recorded by March while the government has realised a fine of Rs 755 crore from illegal miners besides seizing 2,20,085 vehicles.