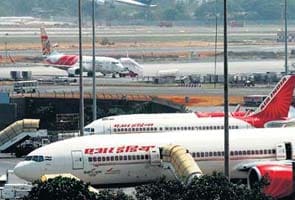 New Delhi:
Air India today got a fresh equity infusion of Rs 1200 crore in the third instance of financial assistance to the beleaguered national carrier from the government.
The decision was taken at a meeting of the Cabinet Committee on Economic Affairs (CCEA) chaired by Prime Minister Manmohan Singh.
Meanwhile, Civil Aviation Minister Vayalar Ravi told Parliament today that high aviation oil prices, rise in wages and competition from other airlines are causing Air India to incur Rs 600 crore monthly loss. "There are several factors which are causing losses to Air India..abnormal increase in aviation fuel prices..competition from budget and other airlines...increase in wages and overheads...," he said during Question Hour in Rajya Sabha.
Besides, the Government is paying interest on working capital and procurement of aircrafts. As a result, Air India is incurring Rs 600 crore loss every month as income is around Rs 1,100 crore and expenses at Rs 1,700 crore, the Minister said answering supplementaries.
Mr Ravi said the Group of Ministers', which has met several times in the recent past, would submit its recommendation on turnaround and financial restructuring of the carrier soon and accordingly, the government would take steps.
The Minister also said that Air India has taken a series of measures for reducing costs."These include rationalisation of certain loss making routes, return of leased aircraft, phasing out of old fleet, reduction in contractual employment and outsourced agencies, fuel savings through critical analysis of fuel consumption, optimisation of aircraft utilisation, closure of foreign stations and offline offices," he said.
The state-run carrier is in the midst of dire financial crisis and has failed to pay salaries to its employees for the last two months.
Prime Minister Manmohan Singh had yesterday said in Lok Sabha that wages and appropriate perks would be paid to the cash-starved Air India employees at the earliest.