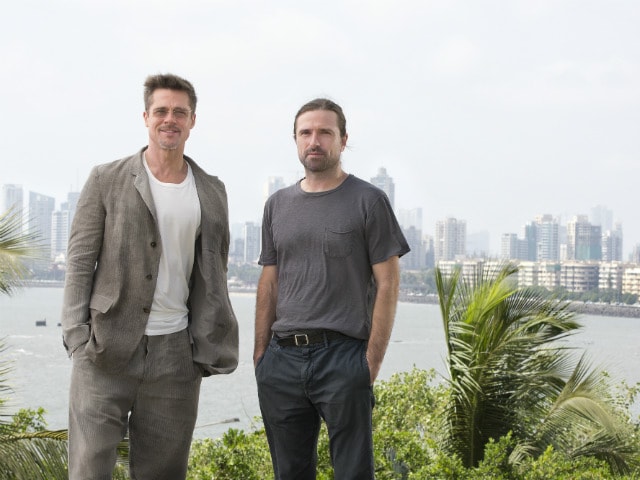 Highlights
'He is a wonderful comedic actor,' says David Michod
David Michod has directed Brad Pitt in War Machine
'Some of my favourite roles Brad has played are comedic ones,' he added
Mumbai:
War Machine
director David Michod was
in Mumbai along with his lead actor Brad Pit
t to promote his ambitious movie. He and Brad Pitt shared stage with Bollywood superstar Shah Rukh Khan at a five-star hotel in South Mumbai. David Michod, Brad Pitt and Shah Rukh Khan spoke at length about the future of movies and how platforms like Netflix are changing things not just for viewers but also for the people who make movies. Michod said it wouldn't be possible for him to make
War Machine
with the current Hollywood distribution system. Before the session with SRK, NDTV.com caught up with director David Michod and got him talking about his war film that may make many Americans uncomfortable.
Here's what the director has to say:
NDTV:
War Machine is based on Michael Hastings' 2012 book
The Operators: The Wild & Terrifying Inside Story of America's War in Afghanistan
, what have you fictionalized to make it an entertaining film?
David Michod:
I took the book as a skeleton to build a fictional story around it. I knew in America everyone would know what the story was, I didn't want to make the film about just the main character, I wanted to tap into the military and the on-ground system and show the disconnect that exists, which no one talks about.
NDTV:
You said, you had this idea 10 years ago, why did it take so long for
War Machine
to get made?
David Michod:
Ten years ago, I had not even made my first film. I wanted to make a war film that was set in Iraq or Afghanistan but at that time no one would give me the money to make a war film, war films are not cheap and I had not made one before this. Also, it took me a while to find the right story that I wanted to tell.
NDTV:
War Machine
is a film that may make many Americans, uncomfortable, did that cross your mind before making it? Were there any apprehensions before putting this story out for the world to see?
David Michod:
I felt somebody should make a film that's set in one of these modern theatres of war that made people uncomfortable. There is very particular kind of war film that America makes and they are very respectful of the troops but they never ask the big questions about the whole endeavour, why is America at war perpetually? I wanted a different kind of film to enter the conversation.
NDTV:
Brad Pitt has done all kinds of roles in his long career but nothing like this, he plays a larger than life General in
War Machine
, what made you cast him in this unusual role?
David Michod:
Well, I knew when his producing partners brought me the book, the hope was always that it would be something that
Brad would play
. Some of my favourite roles that Brad has played are comedic ones, like in
Inglorious Basterds
. He is a wonderful comedic actor.
NDTV:
What was the biggest challenge for you while making
War Machine
?
David Michod:
The biggest challenge was after I made the film, in the editing room. It looked too politically ambitious, there was too much information and it was complex. To put it in the right shape was a big challenge.
NDTV:
As a movie lover, do you prefer watching films in cinema halls or do you enjoy streaming and watching them as well?
David Michod:
Firstly, I just want to make bold movies. The way Hollywood distribution system works. I's difficult to make bold and interesting films in a proper budget. I wouldn't be able to make one out there. I grew up watching amazing films in the 90s, that's when they made movies within a good budget. By the time I made my first movie that system didn't exist anymore, so I'm grateful that
Netflix
has come along at just this time and is willing to take risks on interesting movies. I love watching movies on the big screen and I would love to make them but if the system can't support that then you are screaming into the void.
NDTV:
Back in Australia, do you get to hear anything about Indian cinema?
David Michod:
Yes, it feels like there is a lot of interaction between our industries, your industry is 100 times bigger than ours. Indian movies are being shot in Australia all the time and then crazily Brett Lee will turn up in an Indian film (laughs).