Highlights
'I wouldn't make it in Bollywood, I can't dance,' Brad Pitt told SRK
'We can make anyone dance,' SRK responded
Brad Pitt is in India to promote his new film War Machine
Mumbai:
It's not every day you get to be in the same room as
Brad Pitt
and
Shah Rukh Khan
. On Wednesday evening, the two superstars got together to promote Pitt's upcoming film on Netflix titled
War Machine
. They walked into the rooftop hall at a Mumbai hotel like buddies, chatting with each other like long-lost friends. For the next hour we were all ears, as the two spoke about movies and more. Brad Pitt started the conversation on a light note, saying he would not make it in Bollywood because he can't dance. "I wouldn't make it in Bollywood, I can't dance," Brad Pitt told
Shah Rukh Khan
. "We can make anyone dance," SRK responded, adding by way of demonstrating how easy it is to get jiggy, "I just spread my arms and do nothing, that's a step." Pitt was curious about Indian films, and asked SRK, how long does it take to complete a Bollywood film. SRK said, "Depends on the film, 70 days, sometimes 40 days if there is no problem."
On Twitter, Shah Rukh assured Brad Pitt that 'the dance remains.' This was after the session got over.
My best 2 David & Brad for the release of War Machine on @netflix Pleasure to meet u both & Brad the dance remains pic.twitter.com/mxq0GKrqoL

- Shah Rukh Khan (@iamsrk) May 24, 2017
Meanwhile, few minutes into the conversation, Shah Rukh Khan and Brad Pitt were in their element - both entertained the crowd every time they spoke. When Shah Rukh spoke about singing and dancing in Hindi films, Pitt immediately added, "I can't sing either." SRK replied, "Nor can I, someone else does from behind me." Now, it was Pitt's turn to spill the beans, "
In Tree of Life
, I had to play musical instruments and I couldn't get the piano, so what they was, they got a guy who could play the piano, his hands looked like mine and all I did for the camera was make expressions like I am playing it."
Shah Rukh also spoke about catching up on new technology: "I have said this in the past and I say it again, we have to catch up, Hollywood has done wonderful things that we can learn from. The good thing is that the language barrier is not there anymore. We have wonderful stories to tell but we are not telling them. We have to change the way of presenting. Somehow we have to get technology in."
Here are pictures from the session: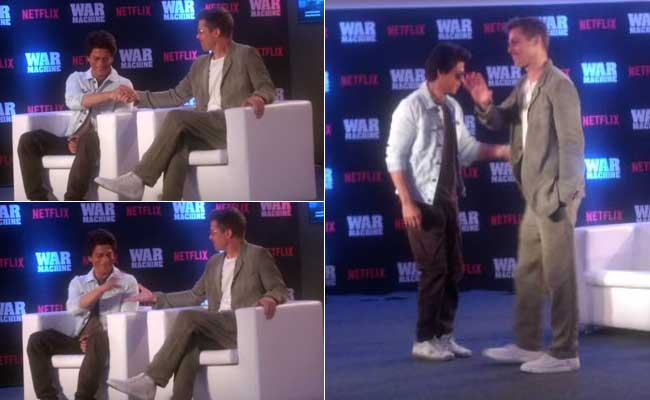 Pitt, who has gone all out backing Netflix, spoke about its importance in today's times,
"War Machine
got made because of Netflix. Because of the way the business model in the film industry is, the way systems are, they can't support risks like
War Machine
. The costs of prints and advertising are so high." Khan backed that by adding, "Every household in India has a singer and filmmaker, this is the right time for all of them to come out and make a film. You have the freedom, no one is telling you what to do, best of films were made like that."
After chatting for an hour, the two posed for pictures, Brad Pitt had to pack up to attend a screening of War Machine at a Mumbai theatre, where he was the surprise guest. As the two left the hall, we couldn't' help but notice how the two are different yet similar in many ways. The film co-stars actors like Ben Kingsley, Tilda Swinton, Anthony Michael Hall and Topher Grace.
In
War Machine
, Brad Pitt plays the role of four-star US general Glenn McMahon. The film, made under the stewardship of Animal Kingdom director David Michod, tracks his journey as he is given the task of ending the war in Afghanistan. The film is inspired by Michael Hastings' book The Operators: The Wild & Terrifying Inside Story of America's War in Afghanistan. War Machine follows the rise and fall of General Glen McMahon and shows how a Rolling Stone led to his fall.
By being a part of this ambitious $60 million project, Brad Pitt is backing Netflix and promoting it as a key player in the movie business. Along with the film's lead actor, director David Michod and producers Jeremy Kleiner and Dede Gardner are also in Mumbai.
War Machine
streams on Netflix
from May 26."