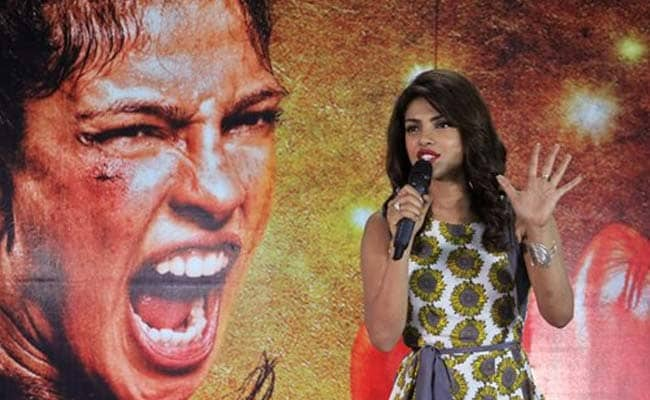 New Delhi:
This is Bollywood's year of the woman. Some of the biggest hits in the movie industry this year have female leads in female-oriented stories.
In this summer's surprise hit, "Queen," Kangana Ranaut is the spunky heroine who embarks on her honeymoon alone after she is jilted the day before her big fat wedding. In "Mary Kom," Priyanka Chopra plays a female Olympic bronze medal-winning boxer. For years, women were relegated to playing the male lead's girlfriend, sister or mother.
But for all their box-office success and newfound prominence, Bollywood actresses are asking: Where is the money?
Top male stars, such as the three Khans - Salman, Shah Rukh and Aamir - and action star Akshay Kumar, earn around Rs 40 crore ($6.7 million) per film on average, apart from a share of the profits, according to industry experts.
A-list actresses such as Deepika Padukone and Katrina Kaif get paid a tenth of that per film.
When Ms Padukone recently signed a movie deal for around Rs 7 crore ($1.1 million), it generated a buzz since it was one of the highest amounts paid to a female lead.
Actresses are beginning to speak out about that enormous disparity.
"I don't really understand why we are paid less than male actors because we put in equal effort and the recent past has shown that actresses can deliver a hit film. We deserve better pay, equal to what actors get," up-and-coming star Aditi Rao Hydari told the Press Trust of India.
The momentum started last year, when women featured prominently in several successful movies. That forced directors and producers to rethink roles for actresses. Given the success of this emerging genre, studios appear to be more confident about producing female-oriented movies where the main character is played by a woman, not a man.
Over the past couple of years, several such films starring actresses Kaif, Padukone and Ranaut as well as Priyanka Chopra and Vidya Balan have crossed the Rs 100-crore earnings mark.
Part of the change reflects the greater spending power of Indian women, who are joining the work force, earning more money and want to see movies starring women in stories they can relate to - not typical action or fantasy fare, where women are merely eye candy for male movie-goers.
"It's only going to get better from here as audiences are changing. We are moving toward a society where we have more educated and working class women," said Ranaut. "They'd like to see stronger women on screen."
In Hollywood, age does play a significant factor, and actresses in their 20s generally earn more than their same-age male counterparts. But overall, the highest-paid male actors in American movies earn more than twice as much as female stars.
The pay gap in India will narrow as movies about women become more popular, said Ms Chopra, a top-billed actress who plays the lead in the boxing movie "Mary Kom."
"When women-centered films become hits," she said, "then the disparity will end."