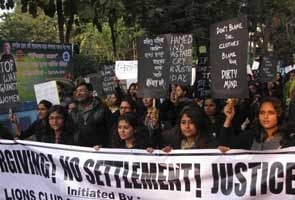 New Delhi:
The chief of the Bharatiya Janata Party (BJP) in Delhi has written to the Prime Minister to demand an Ashoka Chakra, the county's highest civilian award for bravery, for the 23-year-old medical student who was gang-raped on a moving bus in Delhi.
Vijender Gupta wrote that the courage shown by the student in fighting off her attackers on the night of December 16 and trying to overcome life-threatening injuries in hospital had inspired the nation.
She should be honoured posthumously on Republic Day, he demanded. "The courage and bravery she showed has inspired the whole nation and shaken our national consciousness," his letter said.
'Amanat' (NOT her real name) died in a Singapore hospital on December 29 after a brave fight to survive that even amazed her doctors. She underwent three major surgeries in less than two weeks, including one to have her intestines removed, suffered a cardiac arrest as well as brain damage.
Doctors at Safdarjung Hospital, where she was first treated, say she was strong-willed and positive and often told her mother she wanted to live.
The BJP leader cited the Ashoka Chakra for Neerja Bhanot, a Pan Am flight attendant who died saving passengers from terrorists on a hijacked flight in September 1986. Ms Bhanot is the youngest Indian to have got the honour.
(With PTI inputs)