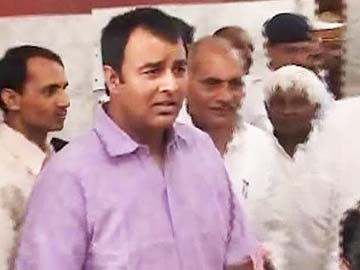 Lucknow:
The Bharatiya Janata Party or BJP will honour its legislators accused of inciting communal violence in Muzaffarnagar at a rally to be addressed by Narendra Modi in Agra on Thursday.
The BJP's legislators in the Uttar Pradesh Assembly, Sangeet Som and Suresh Rana, were jailed in September after the stringent National Security Act was imposed on them for their alleged role in the Muzaffarnagar riots.
The two leaders were granted bail and released earlier this month after their detention was revoked under the NSA.
Sources said the two leaders will share the stage with their prime ministerial candidate at Agra, where they will also be garlanded at the public meeting.
Mr Modi, who had made a reference to the NSA being lifted against the two leaders at a rally in Uttar Pradesh's Bahraich district this month, is unlikely to garland them, sources added.
Mr Som, accused of uploading a video on his Facebook wall which reportedly sparked communal tension in the area, was arrested in Meerut on September 21. He is also facing allegations of having made inflammatory speeches.
Mr Rana was arrested from Lucknow on September 20 for his alleged role in stoking the violence which left over 60 people dead and rendered more than 40,000 homeless.