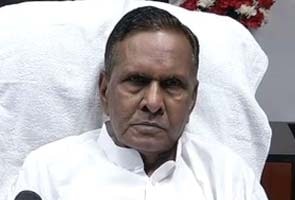 New Delhi:
Bharatiya Janata Party (BJP) on Wednesday came out in support of Mulayam Singh Yadav, demanding that union Steel Minister Beni Prasad Verma resign over his reported comments against Samajwadi Party supremo.
The BJP also demanded that the matter be referred to the privileges committee.
As soon as the Lok Sabha assembled after an hour's adjournment at 12 p.m., Leader of Opposition, Sushma Swaraj got up and raised the issue.
"Mulayam Singh Yadav is a senior leader, but one minister used unparliamentary words against him. Instead of apologising, the minister added another insulting statement.
"We have differences politically, but such a statement is uncalled for. Government must immediately make a statement on the issue and he should be out of the cabinet," Sushma Swaraj said in the Lok sabha.
She added that the minister should be either in a position to prove what he alleged, about Mr Yadav's links to terrorists, or he must quit.
"The matter should be referred to the privileges committee," Sushma Swaraj said.
SP members have alleged that Mr Verma said Mr Yadav receives a "commission" for supporting the government at the centre.
Earlier, at a rally in Gonda, his constituency in Uttar Pradesh, Mr Verma had allegedly said that Mr Yadav had links with terrorists.