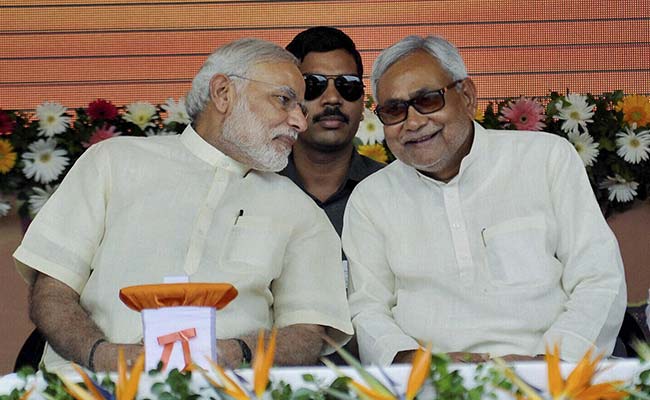 Highlights
BJP, Janata Dal United, Ram Vilas Paswan seal seat-sharing agreement
Bihar BJP leaders concede they are not in the loop on seat-sharing
Upendra Kushwaha, Rashtriya Janata Dal friction remain hurdle
Patna:
The three main constituents of the National Democratic Alliance in Bihar - the BJP, Nitish Kumar's Janata Dal United and Ram Vilas Paswan - have sealed a seat-sharing agreement for the upcoming Lok Sabha elections but an announcement is being delayed because of the fourth wheel in the coalition - Union Minister Upendra Kushwaha's Rashtriya Lok Samta Party, sources have told NDTV.
Most of the leaders in the BJP's Bihar unit and Janata Dal United believe that dumping Mr Kushwaha from the NDA won't hit their electoral bottom line, sources say. Most voters from Mr Kushwaha's base voted against the BJP anyway in the last state election in 2015, they reason.
In his last meeting of the JDU's state executive, Nitish Kumar had announced that the talks with BJP chief Amit Shah on seat sharing have concluded and the party has managed to secure a "respectable" number of seats, sources said.
Mr Kumar, however, avoided giving out the breakup with a joke that party general secretary KC Tyagi, who was present, would leak the number to the media.
This was the same meeting where political strategist Prashant Kishore officially became a member of the Janata Dal United and Nitish Kumar made him sit next to him on the right.
BJP leaders in state concede that even though they are not in the loop about the final seat-sharing agreement, Nitish Kumar's body language suggests that he seems to have got his way of contesting the same number seats as the BJP or only a couple less - despite the JDU scoring just two and the BJP 22 out of the 40 Lok Sabha seats in the 2014 election.
Even Ram Vilas Paswan is believed to be on board with the agreement since he appears to be getting not less than five and maybe even six of the total seven seats that his party had contested in 2014. Sources said Mr Paswan has been told that all members of the NDA in Bihar need to tighten their belts to accommodate Nitish Kumar's ambitions.
However, Upendra Kushwaha and his apparent fraternisation with Lalu Yadav Rashtriya Janata Dal, remain the main hurdle in declaring the numbers, they said.
Many leaders in the state suspect that Mr Kushwaha seems to be holding out on a call on whether to stay with the NDA or join the opposition ranks only in January after the elections in three states.