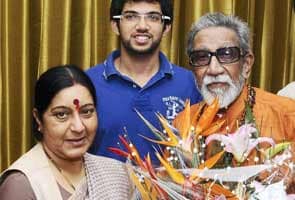 New Delhi:
The BJP has downplayed Shiv Sena chief Bal Thackeray's statement that Sushma Swaraj is the only "deserving" BJP leader for the Prime Minister's post. BJP leader Arun Jaitley said the party will decide on it along with its allies at the time of election.
In an interview to a private television channel, Mr Jaitley also brushed aside talk of small parties in NDA alliance taking critical decisions on behalf of the BJP and said suggestions by these allies are not viewed as a challenge to the party.
"I think the allies express their opinion and they have a right to express their opinion. Frankly when we decide alongwith our allies at the time of the next election, we factor in every factor therein," said Mr Jaitley.
He said, "The smaller and friendly parties can always make suggestions. They have a right to make suggestions. I don't take it as an idea of a challenge."
Asked who in BJP could become the next Prime Minister, Thackeray had in an interview to Sena mouthpiece 'Saamana' said, "At present there is only one person who is intelligent, brilliant - Sushma Swaraj...She would be a great choice for PM's post. She is a deserving, intelligent woman. She would deliver a great performance."
Mr Jaitley denied that NDA allies have an upper hand in the alliance and that they were dictating terms to the BJP saying, "I don't think so. In any alliance, the anchor has to be a largest party and most of our allies, including Nitish Kumar, have always conceded that."
The Leader of Opposition in Rajya Sabha justified the BJP action of stalling Parliament over Coal block allocation issue and claimed the BJP protest had actually brought the issue on the centre-stage before the public.