New Delhi:
Highlights
Elections to be held for 3 seats in Gujarat; BJP has numbers to win 2
For second seat, BJP will re-nominate Union Minister Smriti Irani
BJP has not yet named a third candidate for Gujarat Rajya Sabha polls
BJP chief Amit Shah will contest Rajya Sabha elections from Gujarat, the party said on Wednesday. Elections will be held for three seats in the state on August 8 and the BJP, with its big majority in the state assembly, will easily win two. For the second seat, the BJP will re-nominate union minister Smriti Irani, whose term ends next month.
Amit Shah is a five-term legislator in the Gujarat assembly. The decision to bring the party chief to parliament for the first time was taken at a meeting on Wednesday of the BJP's highest decision-making body, the parliamentary board, union minister JP Nadda said after the meeting.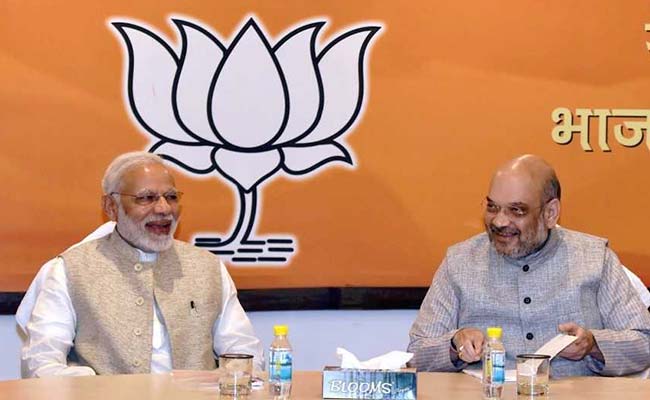 Mr Shah will leave for Gujarat today and is likely to file his nomination on Friday.
The BJP has not yet named a third candidate for the Gujarat Rajya Sabha elections. Sources said the party could back Balwantsinh Rajput, a senior Congress leader who is expected to quit the party and contest as an Independent candidate against Ahmed Patel, political advisor to Congress President Sonia Gandhi.
The BJP wants to prevent Mr Patel from returning to the Upper House of parliament, which will not just be a loss of prestige but will also dent Congress morale ahead of assembly elections to be held later this year.
Mr Rajput, the Congress' chief whip in the Gujarat assembly, is a close relative of Shankarsinh Vaghela, who quit the Congress last week after saying that the party had sacked him. The BJP wants to enlist the help of Mr Vaghela in ensuring that Mr Patel loses the Rajya Sabha election by falling short of votes.
The BJP is hoping for a repeat of last week when about 11 Congress MLAs, believed to be Mr Vaghela's supporters, voted for Ram Nath Kovind as President of India. The Congress, along with 17 other parties, had chosen Meira Kumar as its nominee.
The cross-voting was seen as a signal that Mr Vagehla can play spoiler in crucial elections for the Congress. So far Mr Vagehla has said he will honour a promise to support Ahmed Patel in the Rajya Sabha election.
The Congress has 57 legislators in the 182-seat Gujarat assembly. It needs the support of 47 for its candidate to win. If 11 vote against Mr Patel, he could be in trouble.
For the one Rajya Sabha seat in Madhya Pradesh for which elections will be held, the BJP has named Sampatiya Uikey, a tribal leader. The seat was held by union minister Anil Madhav Dave, who died in May this year.