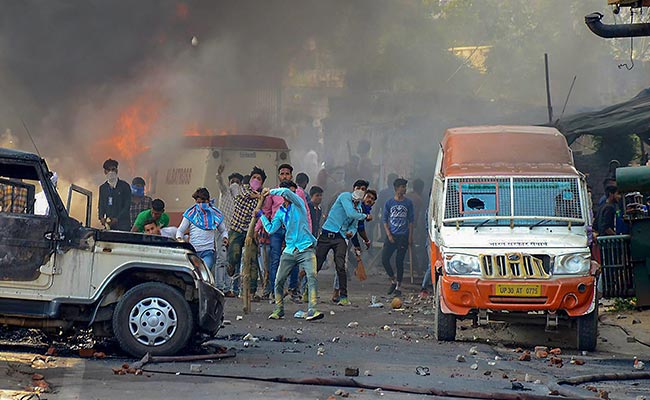 New Delhi:
Nine people have been killed in Rajasthan, Madhya Pradesh and UP as protests by Dalit groups against a Supreme Court ruling on the SC/ST (Prevention of Atrocities) Act turned violent.
In UP, as many as 448 people were arrested
for allegedly being involved in vandalism, arson or on other charges while a high alert was sounded across the state's 75 districts. Protesters protested across north India and violence erupted as
Dalit groups tried to enforce an all-India shutdown
over the Supreme Court order. Protesters clashed with police in parts of Punjab, Rajasthan, Jharkhand, Madhya Pradesh and Uttar Pradesh. Punjab came to a virtual standstill as the government shut schools, strengthened security, and put the army on stand-by. The Dalit organisations have called for a bandh to protest the alleged dilution of the the Scheduled Castes and the Scheduled Tribes Prevention of Atrocities Act, 1989. The top court recently banned automatic arrests and registration of criminal cases under the SC/ST Act. The Centre has appealed to Supreme Court to review the order.
Here are the Updates for the Bharat Bandh Dalit Protest:
CPIM Blames Centre Over SC/ST Law Row
The CPI(M) condemned the violence resulting in deaths of agitators and accused the central government of failing to present an effective case on the issue in the court. In a statement, it said the response to the call for a 'Bharat bandh' by various Dalit organisations had been widespread in states like Punjab, Rajasthan, Madhya Pradesh, Bihar, Jharkhand, Odisha and Uttar Pradesh.
"This shows the anger against the Supreme Court's decision to dilute the SC/ST Prevention of Atrocities Act", it said. The party claimed that the situation had arisen because of the failure of the Narendra Modi-led government at the Centre. "The politburo condemns the brutal police firing which has led to the death of four people in Gwalior, Bhind and Morena in BJP ruled Madhya Pradesh. In many other places, there have been attacks by police on protesters. One person has died in Alwar, Rajasthan," the statement alleged.