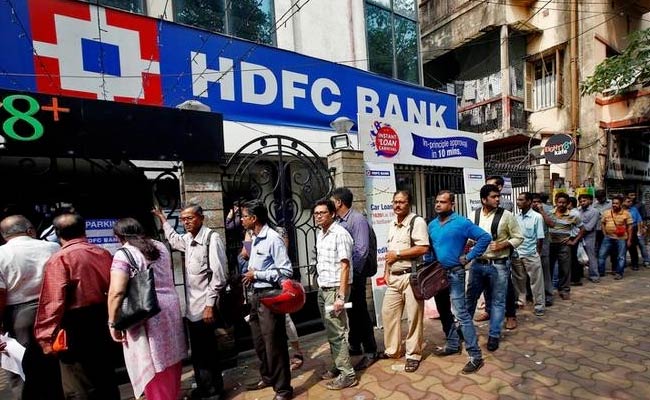 New Delhi:
The Reserve Bank of India on Monday said banks have received 5.45 trillion rupees or 80 billion dollars in 500 and 1,000 rupee notes from November 10 to 18, after the government decided to withdraw high value bills to eliminate black or untaxed money and counterfeit currency.
Here are the 10 latest developments in this big story:
The amount includes 5.12 trillion rupees ($75.1 billion) in bank deposits and 33,000 crore rupees ($ 4.85 billion) in exchange of old notes with new ones. The government had abolished 500 and 1,000 rupee notes on November 8.

The central bank has also made a series of announcements today, in one, allowing banks to give borrowers an additional 60 days for repayment of housing, car, farm and other loans under one crore.

The RBI said banks and other financiers will get an additional 60 days for recognising these loans as non-performing assets or substandard. The relaxation will apply to dues payable between November 1 and December 31, it said.

The RBI has also eased cash withdrawal rules for businesses, saying overdraft and cash credit account holders can now withdraw up to Rs 50,000 in a week now.

It had earlier allowed only current account holders to withdraw Rs 50,000 in a week. The central bank said this would be allowed for accounts that have been operational for the last three months. People can withdraw Rs 24,000 a week from their savings account.

To help farmers in the middle of the Rabi sowing season, the government said on Monday said it will allow them to purchase seed with the banned 500 rupee notes.

Farmers, the government said, can buy the seeds using old notes at outlets of central or state governments, state-run enterprises and national or state seed companies and agricultural universities. They will have to show proof of identity.

The cancelled bills form 86 per cent of the notes in circulation, and rural India, which has poor access to banks and ATMs, has been stranded without cash. The RBI has assured people there is enough cash and they do not have to hoard new bills.

The ban on high value notes has largely been praised by financial experts and analysts, but many have questioned its implementation and the government's preparedness, with people having had to queue up for hours at banks to get rationed new notes amid a cash crunch.

Prime Minister Narendra Modi has said these are teething problems in implementation a decision with long-term benefits for the Indian economy. The inconvenience to people will not last more than 50 days, he has said.
Post a comment