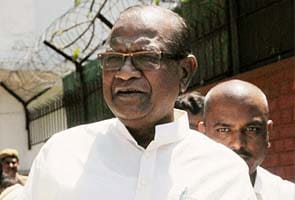 New Delhi:
Former BJP President Bangaru Laxman has moved the Delhi High Court challenging his conviction and the punishment awarded to him by a special CBI court here for taking Rs one lakh as bribe in a fictitious defence deal case.
Eleven years a sting operation by a news portal, Laxman was convicted and sent to four years in jail on April 28 and imposed a fine of Rs one lakh.
Mr Laxman has moved the High Court seeking quashing of the trial court's conviction and sentence awarded to him for taking the bribe from fake arms dealers to recommend to the Defence Ministry to award them a contract to supply thermal binoculars to the Army.
Mr Laxman's cousel Atul Kumar said the petition is likely to be taken up by the High Court on Friday.
The former BJP president has spent the last 10 days in Tihar jail.