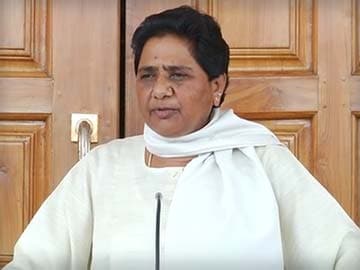 Lucknow:
Bahujan Samaj Party chief Mayawati on Sunday reiterated her demand for the imposition of President's rule in Uttar Pradesh.
She targeted the ruling Samajwadi Party government over the Badaun gang-rape case and claimed that there was no law and order in Uttar Pradesh. (
Badaun Case: UP Government Recommends CBI probe
)
"Crime has increased under Samajwadi Party rule," she said while addressing a press conference in Lucknow today morning.
Ms Mayawati will now head to Badaun, where she will meet the family members of the two teenaged cousins who were gang-raped and killed on the night of May 27. (
'I Don't Need Compensation, I Want Justice,' Says Father
)
Their bodies were found hanging from a tree the next day. Police had allegedly refused to register a first information report for hours. (
Why No Toilets at Home Puts Women at Risk
)
All five accused who had been identified are now under arrest. Two are yet to be identified.
Ms Mayawati's visit comes a day after that of Congress Vice-President Rahul Gandhi, who had spent nearly 30 minutes with the family members of the two girls. (
Badaun Sisters' Gang-Rape: Rahul Gandhi Meets Family
)
"There can be no price for a woman's honour," Mr Gandhi had told media personnel during his visit.
Both Mr Gandhi and Ms Mayawati had demanded a probe by the Central Bureau of Investigation or CBI.
Samajwadi Party leader and Badaun MP Dharmendra Yadav also visited the girls' family today. He assured them that the state government will ensure speedy justice is delivered in the case and security arrangements are made for the family members. (
Is Safety a Distant Dream for India's Daughters?
)
The ruling party has received immense flak for the law and order situation in the state, and Chief Minister Akhilesh Yadav's defiant stance.