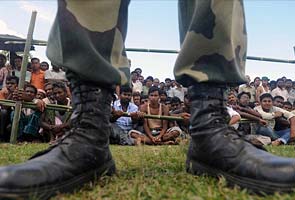 New Delhi:
The Ministry of Home Affairs (MHA) has taken a very serious view of the fact that the Indian Army took five days to deploy force in Assam, as the riots spread despite repeated pleas and reminders from the state government. The issue is likely to be taken up with Prime Minister Manmohan Singh, who also represents Assam in the Parliament.
The law clearly states that the highest ranking executive magistrate, who is present at the site of violence, can requisition the Army to deal with a riot-like situation and disperse mobs. The Army, however, in consultation with the Ministry of Defence (MoD), devised a Standard Operating Procedure (SOP) that requires it to take a prior clearance from the MoD before deployment. It is not clear yet when, why or who had cleared this SOP. "This procedure is flawed and is against the law of the land and needs to scrapped immediately," a senior official told NDTV. The MHA wants this SOP to be scrapped and wants the Prime Minister to take up the issue with Defence Minister AK Antony.
Sources told NDTV that the first request from the state government to the Army for help was sent by the District Magistrate of Kokrajhar on July 20. The local Army units, however, informed the state government that it was unable to deploy till a clearance from the MoD and the Army Headquarters. The next day, the state home department wrote a letter to the Ministry of Defence. Unfortunately, even then the letter wasn't acted upon. On July 23 the Deputy Commissioner of Dhubri also requisitioned the Army as the violence started spreading from Kokrajhar. The following day, on the July 24, the state administration sent another reminder to the MoD, and also informed the MHA, that its repeated pleas for deployment of the Army hadn't been either acknowledged or acted upon.
Shocked at the lack of urgency, even as violence spread to other part of the state, the MHA wrote letters that very day. The Union Home Secretary RK Singh also wrote a strongly-worded letter to his counterpart - Defence Secretary Shashikant Sharma - reminding him of the legal obligations of the armed forces to act in aid to the civil authority. Late on July 24 night the Army deployments were cleared. The Army was finally deployed on July 25 at about 8 am in the morning.
By the time the Army was deployed, over 50 people had been killed. The maximum number of killings took place between July 21 and 23. What has perhaps annoyed the Centre is that the Army is present in adequate numbers in Assam for counter-insurgency duties and the turn around to law and order mode should have been easy. The 11 Brigade of the Indian Army is positioned in Kokrajhar looks after lower Assam. In contrast, para-military units of the CRPF, BSF and ITBP had to be moved from across the country.