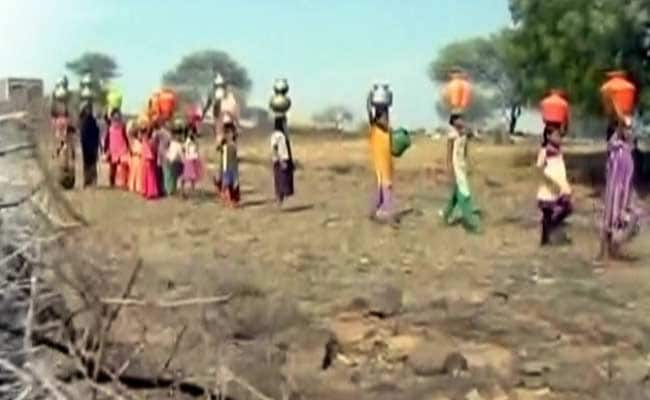 Highlights
Drought-hit states haven't used Centre-allocated funds for drinking water
'Flexi-fund' meant to be used to provide immediate relief in emergencies
Fund allows access to 10% of total allocation but states haven't used it
New Delhi:
The Centre has faced much criticism for not doing enough to ease the hardship of drought-affected states, but data shows that state governments cannot escape their share of blame for the enormous crisis.
The 13 states hit by an acute water shortage have not used funds allocated to them by the Centre for drinking water projects, data from the Centre's rural development ministry shows.
"Details available with the ministry show that 13 states, including Maharashtra, Karnataka, Jharkhand and Telangana have not utilised the funds provided to them by the Centre," Union Rural Development Minister Chowdhry Birendra Singh told NDTV, adding that nearly 1500 crore is parked at various levels "including districts that are worst affected by water shortage,"
The Centre provides funds to states under the national rural drinking water programme through a budgetary allocation for the rural development ministry.
The statistics released by the ministry show that as on Sunday last, Maharashtra - where the Marathwada region is facing its worst drought in decades - had 322 crore of unspent central funds for drinking water.
Karnataka, where about 500 villages are now completely dependent on water supplied by tankers, had 200 crore in unspent funds. Uttar Pradesh had 332 crore parked and Telangana, around Rs 20 crore.
The Centre also provides all states with a "flexi-fund" - easy access to 10 per cent of total allocation - which they can use for emergency measures to provide immediate relief. None of the states reeling under drought have utilised even the flexi-fund.
Top sources in the government said that on Monday, April 11, Rajasthan finally submitted a report with details of projects and how it is using the central funds. There are no such reports yet from the other states.
The Centre, which argues that declaring drought is a state's prerogative, has been rapped on the knuckles by the Supreme Court which has asked whether it is washing its hands of the responsibility at a time of crisis.
Agriculture and Farmer Welfare Minister Radha Mohan Singh quoted constitutional provisions to say, "The power to declare drought is completely vested with the states and the Centre has no role other than providing funds and placing a monitoring system. The Ministry of Agriculture can only issue guidelines and broad parameters to be followed."