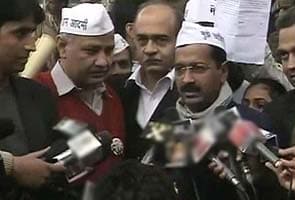 New Delhi:
Arvind Kejriwal and other members of his political party have said they would rather go to jail than ask for bail in a case that accuses them of defying police orders to protest at the Prime Minister's house in Delhi in August.
"We confess to violating Section 144," said Mr Kejriwal in court. Section 144 of the Criminal Procedure Code bans groups larger than five from gathering as a precaution for maintaining law and order.
The co-founder of Mr Kejriwal's Aam Aadmi Party, lawyer-activist Prashant Bhushan told the judge, "The imposition of Section 144 is a violation of fundamental rights to protest peacefully in a democracy."
"If you believe in the system, then argue your case," the judge said, promising, "I can assure you I can complete the trial within six months if you co-operate with the court." He is scheduled to decide soon whether Mr Kejriwal and his colleagues should be arrested.
In August last year, Mr Kejriwal and his associates led a demonstration towards Dr Manmohan Singh's home demanding his resignation over an alleged coal scam. A report by the government's auditor or CAG said that the country had lost upto 1.856 lakh crores because coal fields had been allotted to private firms without adequate transparency. For three of the four years in question, the Prime Minister held direct charge of the Coal Ministry.
Coal-Gate, as it was named, adrenalized Mr Kejriwal's campaign against the government, which he charges with indefatigable corruption. The police had at the time banned large groups from gathering near the PM's home.