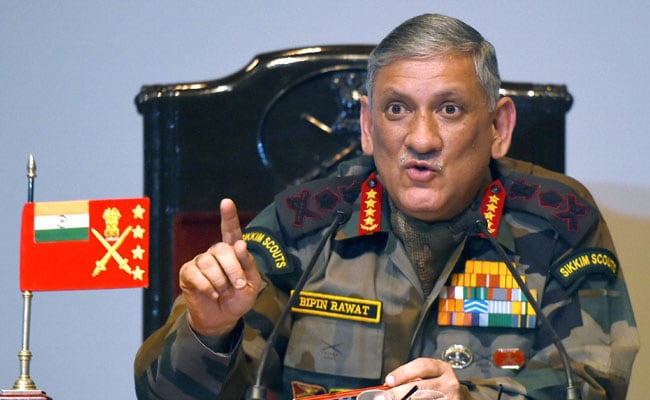 Highlights
Army Chief's warning comes after PM Modi met China's Xi
Both leaders spoke of need to prevent aggressive border conflicts
70-day-long confrontation at Doklam, worst in decades, ended a week ago
New Delhi:
A week after India and China ended their
worst military confrontation
in decades, Army Chief General Bipin Rawat has said that the possibility of a two-front war against China on the North and Pakistan to the West cannot be ruled out.
"As far as the Northern adversary is concerned, flexing of muscles has started. Salami slicing, taking over territory in a very gradual manner, testing our limits or threshold is something we have to be wary about. Remain prepared for situations that are emerging gradually into conflict," he said about China.
He warned that a war with China could easily end up involving its long-term ally, Pakistan. "Whether these conflicts will be limited and confined in space and time, or whether these can expand into an all-out war along the entire front with the Western adversary (Pakistan) taking advantage of the situation developing on the Northern border is very much likely."
This isn't the first time the Army Chief has spoken about the possibility of a two-front war, but the timing of his remarks indicate how sensitive the Army remains to the situation with China. The remarks come just a day after Prime Minister Modi and Chinese President Xi Xinping met on the sidelines of the BRICS summit in Xiamen in China. Both leaders
spoke of the need
to "do more" to prevent border aggression. President Xi stressed to PM Modi that it's important for relations between the two countries to get on "the right track."
In mid-June, Indian soldiers crossed the border at Sikkim to stop China from constructing a new road on the remote Dokalm Plateau that Beijing considers its own, though India backs Bhutan's claim to the region. Enraged, China accused India of "illegally transgressing" into its terrain.
India said it had warned that the new road would be treated as a serious threat to the security of its northeastern states. Soldiers from both sides than stood eyeball-to-eyeball for more than 70 days, till both sides agreed, through diplomatic talks and despite daily shrill rhetoric from China, to withdraw their troops. China has not clearly indicated whether it has abandoned its plans for the new road. Indian sources say Beijing has removed its bulldozers and other road-making equipment.
While yesterday's discussions between PM Modi and President Xi have been described as being positive, India has decided to expand the scope of its military relationship with Japan which has a testy equation with China.
In a move likely to irk China, India and Japan on Wednesday significantly stepped up defence ties during the visit of Arun Jaitley to Tokyo on his last trip as India's Defence Minister before Nirmala Sitharaman replaces him today.
The Indian and Japanese Armies plan on holding joint anti-terrorism exercises for the first time next year. Japan, which participated in the Malabar Naval Exercise with the US and India in the Bay of Bengal in July, wants to step up its level of engagement in these war games by sending across its state of the art P-1 anti-submarine warfare aircraft, the most sophisticated aircraft of its class presently operated by its navy.
The navies of both countries will also train together in anti-submarine warfare and anti-mine warfare exercises which could see the Indian Navy deploy its US-built P-8-I anti-submarine jets to Japanese naval bases for the very first time.