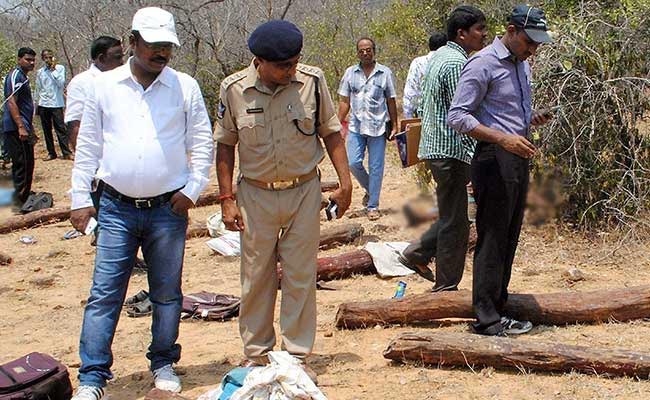 Hyderabad:
Nearly 17 days after 20 alleged smugglers were shot dead inside the red sanders forests of Chittoor; the Andhra Pradesh government has constituted an eight-member Special Investigation Team to investigate into the incident.
The special investigation team will be led by Dr Ravishankar Ayyanar, who till recently headed the Hyderabad branch of the National Investigation Agency. He has now returned to Andhra Pradesh cadre.
"The SIT will conduct a thorough investigation into the incident that led to the opening of fire by personnel of Red Sanders Anti-Smuggling Task Force besides a probe into the case registered in this regard," Andhra Pradesh Director General of Police Jasti Venkata Ramudu said in a statement today.
The state government has ordered a comprehensive inquiry into the incident, the Director General of Police added.
20 alleged red sanders smugglers were gunned down in Seshachalam hill ranges of Chittoor district in Andhra Pradesh on April 7 in an operation by the police.
The Andhra Pradesh police claim that the men were notorious smugglers of red sandalwood or red sanders and were killed after they attacked a task force team of forest officials and armed guards. They claim that the team was outnumbered and fired in self-defence.
Activists have, however, questioned the police version pointing at the state of the bodies. Some of the bodies have burn marks; others show bullet injuries in the chest and head, which activists say challenge the police claim of self-defence.