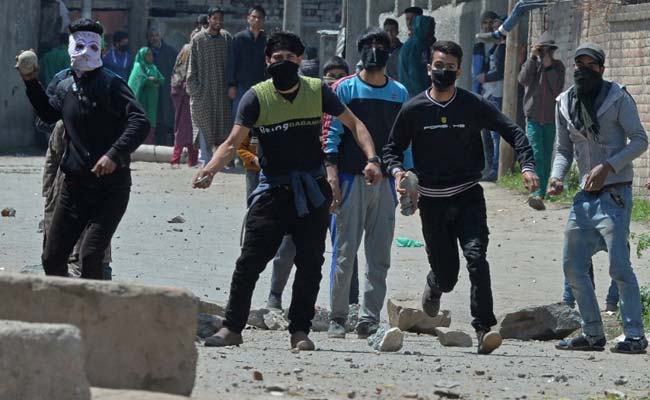 Highlights
8 were killed, 100 injured in violence during Srinagar by-poll on Sunday
Srinagar by-poll saw lowest turnout in 30 years at 7 per cent
State government had requested for polls to postponed
New Delhi:
The by-election for Kashmir's Anantnag constituency, which was due on April 12, has been pushed back to May 25, the Election Commission today said, accepting
the state government's request for a deferment
. The counting of votes will be held on June 1.
The Election Commission's decision came a day after unprecedented violence was witnessed in the elections for Srinagar parliamentary constituency, in which eight people died and nearly 100 were injured.
The turnout was the lowest in 30 years -- only 7 per cent
.
The Commission had faced criticism for holding the elections against the advice of the state government. Kashmir's ruling Peoples' Democratic Party
demanded that the elections for Anantnag be deferred
. Its candidate from Anantnag, Chief Minister Mehbooba Mufti's brother Tasaduq Mufti, said the government had informed the poll commission in writing that "this is not a right time for polls".
There were also reports that the Union home ministry had taken a similar stance.
This evening, the Election Commission said the Jammu and Kashmir government's report asked that the elections be deferred, saying law and order was not conducive now for free and fair polls. In its report, the state also expressed fear that violent attempts may be made by miscreants to scuttle the elections.
Earlier today, explaining the decision to go ahead with the elections, sources in the poll commission said holding timely elections are a "constitutional obligation". The state, it was responsible for law and order.
The sources had also pointed out that the state government was planning to hold panchayat elections in Jammu and Kashmir. This, they said, was one of the reasons why the Commission went ahead with the elections.
But the by-polls in Srinagar to pick a parliamentarian had witnessed nearly 200 incidents of violence following a poll boycott call by separatists. The violence had continued today in face of heavy security. A government school and a panchayat office which were to serve as polling booths, were set on fire.