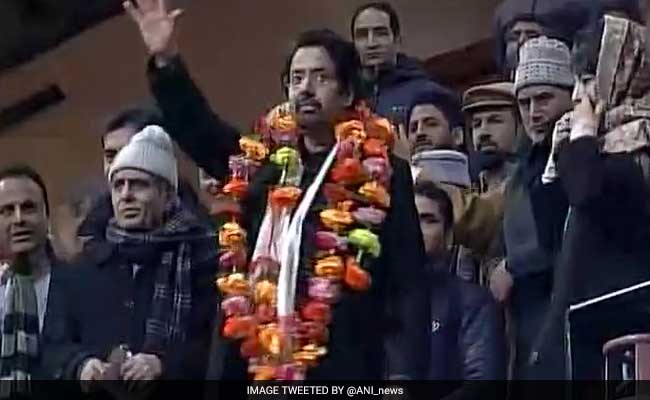 Srinagar:
Tasaduq Hussain Mufti, the candidate of the ruling People's Democratic Party or PDP, has sought that the by-election he is contesting in south Kashmir's Anantnag be postponed, after massive violence during a by-poll in Srinagar yesterday.
Mr Mufti, who is the younger brother of Jammu and Kashmir chief minister Mehbooba Mufti, has told the Election Commission that the situation in the district is not conducive to holding the by-elections, scheduled on Wednesday, April 12. He has offered to withdraw from the race in Anantnag if it helps to defer the election.
Opposition leader and former Jammu and Kashmir Chief Minister Omar Abdullah has described Mr Mufti's appeal as an "indictment of his sister Mehbooba Mufti's government & its abject failure."
Eight civilians were killed when security forces opened fire at a mob that attacked a polling station and damaged EVMs during yesterday's by-election for the Srinagar parliamentary seat. Amid a poll boycott call by separatists, there were more than 200 incidents of violence during voting. Only seven per cent voters voted, the lowest turnout in 30 years.
Separatists have called a two-day shutdown and protest against Sunday's civilian killings and markets, public transport, schools and colleges and businesses are closed across the Kashmir Valley.
Anantnag is a Mufti family stronghold. The parliament seat fell vacant last year after Mehbooba Mufti resigned to take over as Chief Minister in place of her father Mufti Mohammad Sayeed, who died in January 2016. Ms Mufti's PDP rules Jammu and Kashmir in partnership with the BJP.
Tasaduq Mufti makes his political debut with the Anantnag by-election. He is a well-known cinematographer and has worked in Bollywood hits like Omkara and Kaminey.
The 45-year-old, who kept well away from politics, was introduced by his sister at the first meeting of the PDP after the Mufti's death last year. Many of the party leaders had reportedly seen him for the first time. Since then he has been spotted supporting his sister politically.
In the film industry he did not use his famous last name and was known only as Tasaduq Hussain.
He takes on the state Congress chief Ghulam Ahmad Mir in Anantnag. Jammu and Kashmir has six parliamentary seats.