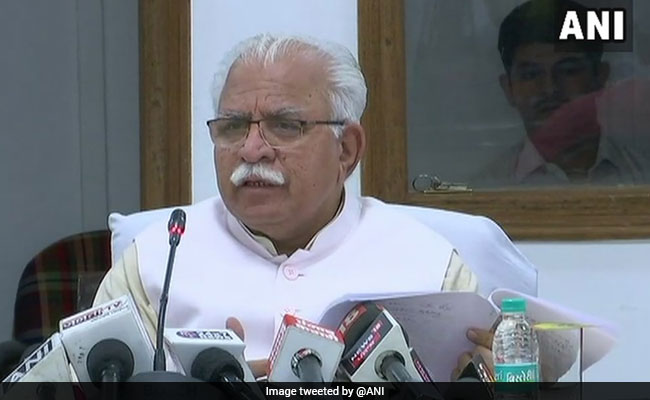 Highlights
On namaz row, ML Khattar says he did not speak of stopping anyone
Namaz with the intention of grabbing land can't be allowed: Anil Vij
Namaz was disrupted allegedly by fringe groups in Gurgaon on April 4
Chandigarh:
Haryana Chief Minister Manohar Lal Khattar issued a clarification today on his statement that
namaz
should be read in mosques and idgahs instead of open areas. "I haven't spoken about stopping anyone. Maintaining law and order is the duty of the police and the administration," Mr Khattar said in Chandigarh today.
Mr Khattar's statement came in the backdrop on several instances of disruption of namaz by fringe right-wing groups, which contended that prayers were being read in public places with the intention of land-grabbing. Reports said the groups visited at least six locations in Gurgaon, where namaz was offered every Friday and put a stop to the proceedings.
Mr Khattar's minister Anil Vij said: "Occasionally if someone needs to read the namaz, he has the religious freedom to do so but one can't read
namaz
anywhere in the open, with the intention of grabbing land. The government can't allow that."
Speaking on reports of Friday
namaz
being disrupted allegedly by right-wing groups in Gurgaon on April 4, Mr Khattar had said, "There has been an increase in offering
namaz
in the open. Namaz should be read in mosques or idgahs rather than in public spaces". The chief minister had added if there is shortage of places for offering
namaz,
it should be done in private area, like inside homes.
The government, he said, was keeping a close watch on the situation.
For the last two weeks, several right-wing groups have been trying to stop Friday prayers in Gurgaon, alleging some people are trying to grab land and merge it with the mosques.
There were reports of disruptions from Wazirabad, Atul Kataria Chowk, Cyber Park, Bakhtawar Chowk and at South City, police sources said. Sources said the police managed to reach the sites in time and prevent any violence.