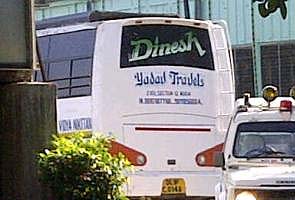 New Delhi:
The owner of the bus in which 23-year-old 'Amanat' (NOT her real name) was gang-raped and brutally assaulted on December 16, was today remanded in police custody for two days by a Delhi court for allegedly submitting false documents for registration of his vehicles.
Metropolitan Magistrate Chhavi Kapoor handed over bus owner Dinesh Yadav to police for his custodial interrogation after it submitted that his custody was required for further investigation in the matter.
The police had arrested Yadav yesterday from his residence in Rasoolpur Nawada village near Noida Sector 62 for allegedly submitting false documents for registration of his vehicles.
It has registered a criminal case of cheating and giving false statement on oath to public servant against 35-year-old Yadav.
During the proceeding, the police told the court that Yadav had submitted false information to the State Transport Department to get the registration certificate and the permit for the bus.
It added Yadav had given a false affidavit about his residential address to get the bus registered with the Delhi Transport Authority.
Police said during investigation, it came to know about the actual address of the bus owner and that 11 buses were registered in his name.
The police told the court that "the bus in which the girl was gang-raped was registered by providing false information at the time of registration. The owner gave as address proof the passbook of Bank of Baroda and the driving licence at the time of registration.
"However, as per landlord Anant Gopal, Yadav never stayed at the given address. Yadav had filed a false affidavit claiming that he is a resident at the said address."
The girl was gang-raped allegedly by six persons in the moving bus on December 16, 2012 and thereafter brutally assaulted, resulting in severe injuries to her.
After initial treatment at the Safdarjung Hospital here, she was shifted to Mount Elizabeth Hospital in Singapore where she succumbed on December 29. The incident has drawn a nationwide outrage.