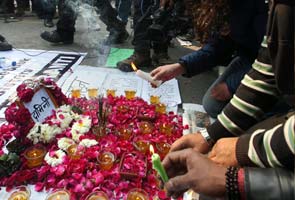 New Delhi:
Political parties were today united in demanding stronger laws to deal with crime against women as President Pranab Mukherjee and Prime Minister Manmohan Singh joined the nation in mourning the death of the 23-year-old 'Amanat' (NOT her real name).
Describing the girl as a "brave daughter of India" and a "true hero", Mr Mukherjee said all steps to bring the perpetrators of this "ghastly crime" to justice should be taken to ensure that her death will not be in vain.
Singh hoped that the entire political class and civil society will set aside narrow sectional interests and agenda to make India a demonstrably safer place to live in.
"We have already seen the emotions and energies this incident has generated. These are perfectly understandable reactions from a young India and an India that genuinely desires change. It would be a true homage to her memory if we are able to channelise these emotions and energies into a constructive course of action," he said
Both Mr Mukherjee and Dr Singh said the country should resolve that her death will not be in vain.
Congress President Sonia Gandhi also condoled the death of the gang-rape victim.
Leader of Opposition in Rajya Sabha Arun Jaitley sought better laws and an environment where women are safe.
"We must now introspect as to how we can improve our laws, our judicial processes and most importantly the consciousness of the citizenry which creates a better environment where women can live with dignity," Mr Jaitley said.
The girl, who was gang-raped and brutally assaulted by six men in a moving bus in south Delhi, died in a Singapore hospital early this morning after battling for life for the past 13 days.
Lok Sabha Speaker Meira Kumar said the "fearless girl" had become a "powerful symbol" of the ongoing battle to ensure
justice for women and effect social change.
"In her untimely and sad demise, we have lost a courageous daughter of our country who faced life with tremendous strength and fortitude...She will continue to inspire us for all times to come," Ms Kumar said.
Vice President Hamid Ansari said every Indian was today feeling the sense of loss as we all had come to identify with the braveheart as she fought valiantly for her life," he said.
Mr Ansari expressed hope that this tragedy would compel people to focus on social norms and practices which are violative of human rights and an impediment to progress in the modern world.
Leader of the Opposition in the Lok Sabha Sushma Swaraj said the death of the girl has shaken the conscience of the nation.
"We must wake up and make India safe for daughters," she said.
BSP chief Mayawati wanted the Centre to enact stringent laws to deal with cases of crime against women.
"Stringent law should be framed to check various type of harrassment of women and for their security. The Centre should take stringent measures without any delay and frame a stringent law," she said.
Home Minister Sushilkumar Shinde pledged to strengthen laws to ensure that such incidents are not repeated.
He said that the real tribute to the 23-year-old victim will be to ensure maximum punishment to the culprits.
Delhi Chief Minister Sheila Dikshit appealed to people to maintain peace and calm against the backdrop of violent demonstrations last weekend over the gang-rape incident.
Eminent jurist Ram Jethmalani demanded a quick trial and quick punishment to the culprits of the gang-rape. "I hope the trial is quick and results in quick punishment. Ultimately, justice must be done.. the trial should be over in two months," said Mr Jethmalani, Rajya Sabha member.
Bihar Chief Minister Nitish Kumar expressed grief over the death of the Delhi gang-rape victim. "The girl showcased extreme resilience in her vain fight for life till the very last minute," he said.
The Chief Minister appealed for calm and peace to allow the law to take its own course and bring the culprits of the gang-rape case to justice by meting out stringent punishment to them.
Mr Kumar cancelled his today's engagements in Rajgir and Biharsharif.
RJD supremo Lalu Prasad also condoled her death. Gujarat Chief Minister Narendra Modi said he was deeply saddened that "India's braveheart daughter" passed away.
Tamil Nadu Governor K Rosaiah and DMK Chief M Karunanidhi also expressed grief over her death.
The Governor called upon all to join hands to put an end to such happenings and "fight against such acts of brutality and ensure safety and security for women."
"The strong punishment to perpetrators of such crime would be to put them in isolation for life in prison. The Centre and state governments should take a strong decision in this regard," Mr Karunanidhi said in a statement.
Uttar Pradesh Chief Minister Akhilesh Yadav demanded that stern action be taken to check such incidents in the society.
SP supremo Mulayam Singh Yadav said it was a barbaric incident.
In his condolence message, LJP chief Ramvilas Paswan demanded "exemplary punishment" for the guilty and said the government should tightened laws to ensure that such incidents are not repeated.
"Tough law to check crime against women is the need of the hour. The tragic incident should serve as an eye opener," he added.