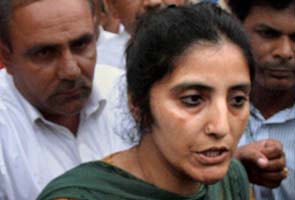 New Delhi:
Aruna Chaddha, an accused in the air hostess Geetika Sharma's suicide case, will be produced in the Rohini court today. Ms Chaddha has been in the judicial custody for the past three days after spending seven days in police remand. The police will today seek her custody.
23-year-old Geetika, who was a flight attendant with the MDLR airline owned by former Haryana minister Gopal Goyal Kanda, had alleged in her suicide note that she was ending her life due to harassment by the latter and Ms Chaddha, an official with the airline. Ms Chaddha was arrested on August 8 after she was called in for questioning by the police.
The Delhi Police, which is probing the case, had told the court on August 12 that it had recently recovered an e-mail written by Geetika to Ms Chaddha where she had said, "I will build my career on my own... no matter how many obstacles one puts in my way." The prosecution had argued that the e-mail proved that the former air hostess, who had quit the airline, was being forced by Ms Chaddha to join back and that the word "one" referred to Mr Kanda.
The prosecution also contended that the police were yet to recover electronic records of MDLR which could be accessed by Ms Chaddha with the passwords which are in her knowledge.
The former Haryana minister, who is being questioned by the Delhi Police, was asked about the three hard drives which were cleared off the MDLR office computers - one from his computer; another from his employee Aruna Chaddha's.
Geetika hanged herself in her house in north Delhi's Ashok Vihar area on August 5 and left behind a suicide note, blaming Mr Kanda and Ms Chaddha for her extreme step.