Chandigarh:
Highlights
Rampal was arrested in 2014 after police stormed ashram in Hisar
He used devotees as human shields, thousands formed human chain
He is also accused of murder in 2006 case, verdict awaited for that
A self-declared religious leader in Haryana, Satguru Rampalji Maharaj, has been found not guilty of illegally confining thousands of followers and obstructing officials in 2014 when they stormed his 12-acre ashram. Six people were killed as his devotees turned into a private army to prevent his arrest; hundreds were injured.
Rampal was arrested in 2014 after his ashram in Hisar, 170 kms northwest of Delhi, was stormed by policemen. His followers were armed with stones, lathis and guns. The days-long siege included Rampal using devotees as human shields. At one point, thousands of them formed a human chain to protect him.
The police wanted to arrest Rampal after he ignored more than 40 summons to appear in court for a case where he is charged with murder. In 2006, he allegedly ordered his supporters to fire on a group of villagers, leaving one dead and six injured. A verdict in that case has yet to be delivered along with judgements on charges of rioting and criminal conspiracy.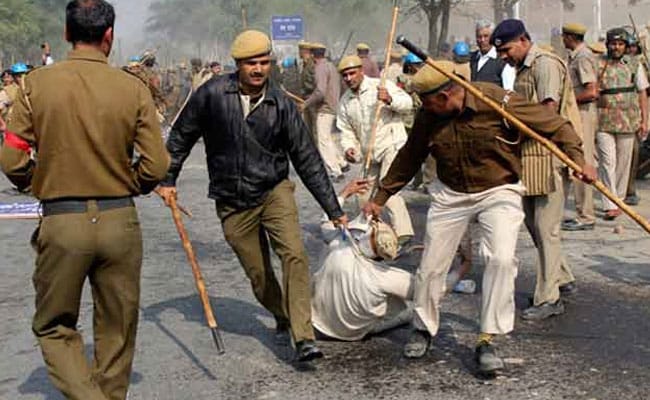 The acquittal today comes as Haryana is still tense over the conviction and imprisonment of self-styled guru Gurmeet Ram Rahim Singh. On Friday, he was convicted of raping two women followers, triggering huge riots across Haryana; yesterday, he was sentenced to 20 years in prison.
Satguru Rampalji Maharaj heads a sect that worships the 15th-century poet and mystic Kabir, who is known for a message of tolerance.
In 2014, after the operation to evacuate thousands of Rampal's followers was completed, the bodies of four women who apparently died inside the complex were found. There were no bullet marks or injuries on the dead and they did not die in the rescue, the police said at the time. Another woman and baby died in hospital after leaving the ashram.
Nearly 10,000 people, many of whom were reportedly being held against their will, were removed from the ashram. Nearly 200 people were injured in the siege, many of them police officers.
Some of those evacuated told police they had been held against their will for days, and given little food or water .The clashes were the first major incident of violence after Chief Minister ML Khattar took charge of Haryana.
Get the latest election news, live updates and election schedule for Lok Sabha Elections 2019 on ndtv.com/elections. Like us on Facebook or follow us on Twitter and Instagram for updates from each of the 543 parliamentary seats for the 2019 Indian general elections.