Agra:
Highlights
Yogi Adityanath visits Taj Mahal amid controversy over comments over it
Also tweeted photos of him with tourists
2 Union Ministers have written to him over attack on Swiss tourists
Yogi Adityanath made his
first visit as Chief Minister to the country's most popular tourist spot
today - he visited the Taj Mahal amid extensive commentary against the 17th century monument by several leaders from his party, the BJP, and asserted, "Why get into who built the Taj and why? What is important is that it was built with the labour of Indian workers."
"Those people questioning my visit to Agra are people who had divided society on the lines of caste, creed and religion," said the Yogi, whose visit to the Taj included a half-hour stop at the graves of Mughal emperor Shah Jahan and his wife Mumtaz Mahal.
The 45-year-old, who is a priest from Eastern Uttar Pradesh, also tweeted photos of himself with foreigners at the spectacular marble mausoleum. Foreign Minister Sushma Swaraj and Junior Tourism Minister KJ Alphons have written to him expressing concern about
an attack on Sunday on a young Swiss couple near the monument
.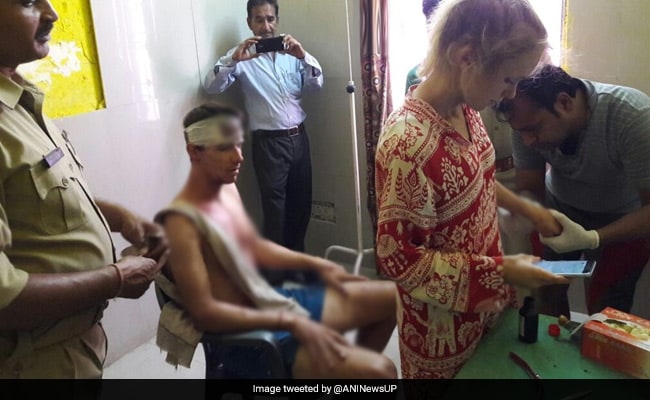 A group of men approached the couple near a local railway station and demanded selfies with the woman before attacking them with stones. The man suffered a fractured skull while his girlfriend, a 24-year-old Swiss national, has a broken arm and multiple bruises.
Bystanders took videos of the couple on their mobile phones as they lay on the ground after the attack.
Yogi Adityanath is now the first BJP Chief Minister of Uttar Pradesh to have visited the Taj Mahal. In May, his trip to Agra omitted the monument.
Recently, BJP leaders went on a verbal rampage against the Taj, with Sangeet Som, a lawmaker from the state, alleging it was built by "traitors" who wanted to eliminate all Hindus.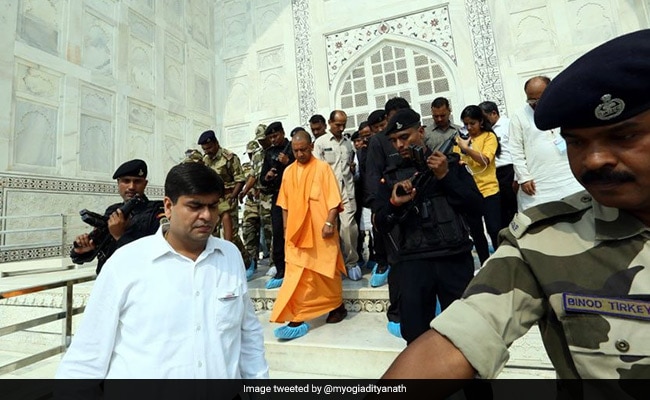 The controversy in some ways was triggered by the Yogi who in May said that miniature replicas of the Taj, offered often as gifts to foreign dignitaries, were inappropriate offerings because they are not representative of Indian heritage.
After that, the Taj did not feature in a document released by the UP government to highlight top tourist spots in the state. As the controversy surged, the Chief Minister sought to rein it in, saying at a public meeting that it had built with "the sweat and blood" of Indians. His visit to the monument was promptly scheduled after that.
The opposition has described the commentary of the BJP leaders against the Taj, one of the seven wonders of the world, as designed to divide Hindus and Muslims in the country's most-populous state.
Follow NDTV for latest election news and live coverage of assembly elections 2019 in Maharashtra and Haryana.
Subscribe to our YouTube channel, like us on Facebook or follow us on Twitter and Instagram for latest news and live news updates.