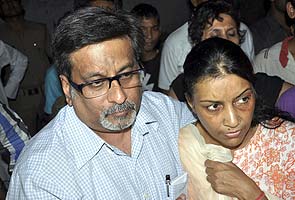 Ghaziabad:
A CBI officer who investigated the Aarushi Talwar murder case told a Ghaziabad court today that circumstantial evidence suggests the teen was murdered by her parents, Rajesh and Nupur Talwar, at their Noida residence in May 2008. The Talwars, both prominent dentists, are being tried for murder.
The officer, AGL Kaul's statement today is consistent with the CBI's stand in the case. He was being examined by the prosecution when he told the court that "no one from outside could have come inside the flat and have committed the crime. It has been committed by the accused only."
The CBI had filed a closure report in 2010 saying that while it strongly suspected the involvement of the parents in Aarushi's murder, it did not have sufficient evidence to prove it. Mr Kaul was part of the CBI team that drafted the closure report, which was set aside by the court and later used a charge-sheet.
13-year-old Aarushi was found dead in bed with her throat slit on the morning of 16 May 2008. The police initially suspected a domestic help, Hemraj, who was missing. But hours later, Hemraj's body was found on the Talwars' terrace. Rajesh and Nupur Talwar were at home when Aarushi was killed.
After two years of investigation, the CBI had sought to close the case saying, "The findings of the investigation reveal a number of circumstances that indicate the involvement of the parents in the crime and the cover up. However, there are a number of critical and serious gaps in the circumstances which make it difficult to string together the sequence of events and motive behind the gruesome murder."
But the judge said the case would not be closed and ordered the Talwars to stand trial for murder. Since then, Aarushi's parents have challenged that verdict in different courts. They say the CBI is accusing them because it has not been able to find the real killer.
Both have spent a few months in jail, Rajesh Talwar immediately after the murder in 2008 and mother Nupur, last year after she surrendered before the Ghaziabad court. Both are out on bail. Trial began in May last year.