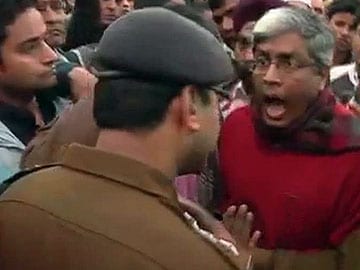 New Delhi:
Aam Aadmi Party (AAP) leaders got into an ugly confrontation with the Delhi Police today in what many saw as a display of the arrogant 'VIP' behavior that they have routinely condemned.
The AAP alleged that their MLA, Akhilesh Tripathi, was injured in a clash with the police, and their minister, Saurabh Bhardwaj, was detained during the protest by Chief Minister Arvind Kejriwal and his six ministers against the Delhi Police.
Journalist-turned-AAP member Ashutosh was seen repeatedly shouting aggressively at a police officer, "Do you think we are fools?"
As the policeman tried to confirm whether the minister had been detained, another AAP leader Sanjay Tiwari was heard saying to the policeman's senior on the phone, "DCP saab, your men are disturbing law and order. Please look into it seriously. They have arrested our minister and made him sit in their bus outside the Air Force headquarters."
When the officer replied that Mr Bhardwaj sat in the bus on his own, AAP leaders turned on the policeman standing there and accused him of "prompting his senior". "Don't argue with us," the AAP leaders told the cop, pointing at him.
AAP workers also kept shouting, "You hit our MLA?"
"We have not detained any minister. I can say that officially," Joint Commissioner of Police Mukesh Meena later told NDTV.
The showdown, aired on NDTV, was widely condemned, especially because Mr Kejriwal and AAP won massive public support for their firm stand against "VIP" culture and its symbols like vehicles with beacons, or lal battis, big bungalows and heavy security.
Ranjitsinh Chudasama tweeted,"Ashutosh ji the Aam Aadmi in his real avatar without any power...guess what would happen if (he) acquires power."
Suketu Kothari wrote, "It clearly looked from media coverage that AAP supporters like Ashutosh were instigating the police to take action against them."
Mr Kejriwal launched a 10-day sit in protest today to demand the suspension of three police officers for allegedly ignoring the orders of his ministers to act in different cases.