New Delhi:
Highlights
BJP fielded fresh faces in Delhi polls, dropped most sitting councillors
Party might replicate strategy in Gujarat assembly polls later this year
BJP performed extensively well in the UP elections last month
The BJP's standout strategy for the
Delhi civic polls
was the decision to drop almost all sitting councilors and field fresh faces. It did this to skirt an anti-incumbency sentiment amid allegations of corruption and non-performance in the three corporations, which it has dominated for years. The party's campaign stressed that it was bringing in fresh faces and fresh energy.
It worked. The
BJP has won all three municipalities
with a bigger margin than last time, and there is already talk about whether the party will look at replicating the strategy in the next big election it faces - the Gujarat assembly elections due at the end of this year. But, Bihar BJP leader Sushil Modi's tweet today notes, the strategy was originally applied in Gujarat by then Chief Minister Narendra Modi.
"Narendra
bhai
had once replaced all Councillers in Guj & won 2/3 seats in local elections. Same strategy worked in MCD," Bihar's Mr Modi tweeted. PM Modi, as Chief Minister of Gujarat for 13 years, had in fact made it a practice to not field many sitting legislators in the 2002, 2007 and 2012 assembly elections too. In 2012, the BJP had dropped 40 per cent of its legislators opting for new candidates. Each time it won big.
The BJP has been in power in Gujarat for more than 19 years and could need to fall back upon the Modi strategy more than ever in the face of a build-up of the anti-incumbency factor. The party has struggled with containing the massive Patel agitation for reservation in government jobs and colleges and had a scare in 2015 when the Congress made inroads in rural areas in local body elections.
The BJP's superlative performance in the Uttar Pradesh elections last month - it won more than 300 of the state's 403 seats - has energised the party cadre in Gujarat as has an early start to its election campaign with both
PM Modi and party chief Amit Shah
making frequent visits to the state.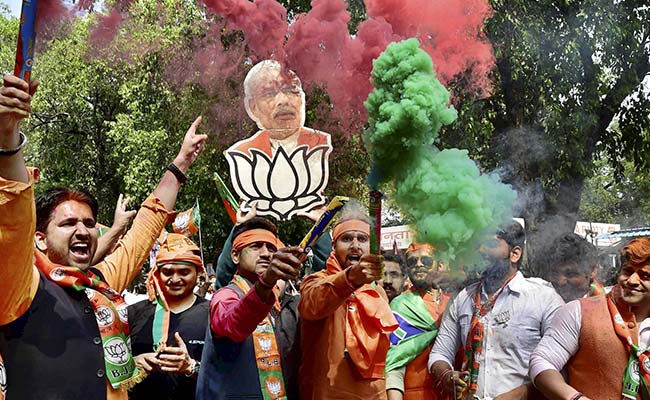 Elections are also due next year in Madhya Pradesh and Chhattisgarh, two other states where the BJP has been in power for some time now. Also in Rajasthan. The party could deny ticket to several legislators seen to have not performed, say sources.
A move like the one in Delhi to field fresh new faces will send out a message to the party's parliamentarians and legislators in other states that their selection to contest elections is not automatic, they will have to perform.
From crucial Uttar Pradesh, which sent 71 BJP lawmakers to parliament in the 2014 national elections, there have been complaints about the non-performance of MPs. The Prime Minister has reminded them at meetings that work must be done in their constituencies to electrify villages and implement central government schemes. With a BJP government now in the state they will also not have recourse to complaints about a non-cooperative state government.
There is now immense pressure on the party to deliver on promises. For PM Modi's bid for a second term in 2019, a repeat of the party's 2014 performance in UP is crucial.