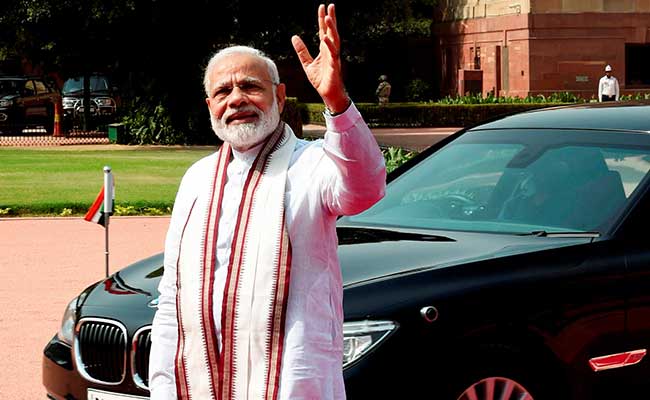 New Delhi:
Neighbourhood First policy: India's renewed focus on South Asia became clear as PM Modi invited the leaders of the neighbouring countries -- Afghanistan, Bangladesh, Bhutan, Maldives, Nepal, Pakistan and Sri Lanka -- for his oath ceremony three years ago. It was a move that startled many. While envoys stationed in Delhi do attend such ceremonies, foreign heads of state were not invited to what was considered a domestic event. India is strengthening ties with Bangladesh working on a number of joint infrastructure projects. A similar policy will be adopted towards Sri Lanka. Last month India gifted a Rs 450 crore satellite that would be used by all SAARC nations barring Pakistan. The focus on other nations of SAARC also is aimed at paring down Pakistan's influence in the area.
Pakistan: Early in his tenure, PM Modi showed willingness to engage Pakistan, surprising many, in view of the BJP's earlier stern comments on the neighbouring nation. Prime Minister Nawaz Sharif was invited to the oath ceremony of PM Modi. And in December 2015, PM Modi made an unexpected stopover at Lahore while returning from Afghanistan. Till then, the last Indian prime minister to visit Pakistan was Atal Bihari Vajpayee in 2004. But ties showed a decline again following a series of terror attacks in India, starting with the one in Uri in September 2016, and increasing ceasefire violations by Pakistan in Jammu and Kashmir. For the last two years, PM Modi has increasingly spoken out against Pakistan's failure to curb terrorists on its soil from various international platforms, including the United Nations General Council.
China:India's renewed engagement with China was marked by President Xi Jinping's visit to India in October 2016. But political ties took a downturn with China's continued resistance to India's bid for a permanent seat at the UN Security Council and the elite nuclear club NSG. Earlier this month, India boycotted the One Belt, One Road, or OBOR project, which was attended by 30 nations including the US and the UK. A large part of the project runs through Pakistan Occupied Kashmir and India said it violates her territorial integrity. Beijing also blocked India's request at the UN to sanction Masood Azhar, the Pakistan-based head of terror group Jaish-e-Mohammed, which has attacked military bases in India.
Israel: Over the last two years, India has slowly moved towards de-hyphanating Israel and Palestine. PM Modi is scheduled to visit Israel in July -- a first by an Indian Prime Minister. But he will be skipping Palestine, towards which India had shown a definite slant in past. The policy towards both nations underwent the slow shift after PM Modi took over and India grew closer to the US - a traditional ally of Israel. In 2014, Home Minister Rajnath Singh visited Israel but did not visit Palestine. Recently India abstained from voting on the UN resolution against Israel at the UNHCR.
Focus on Indian Ocean: The government also started a renewed focus on its maritime strategy in the Indian Ocean with an eye to counter China's growing influence. India is cultivating nations at key points in the Indian Ocean, including the Persian Gulf, the Malacca Strait and southern Africa. Special attention is being given to Mauritius, which holds the key to the south-west Indian Ocean and is also the entry point to the Atlantic Ocean. Besides, efforts are being made to expand ties on various fronts with Madagascar, Mozambique and Seychelles.