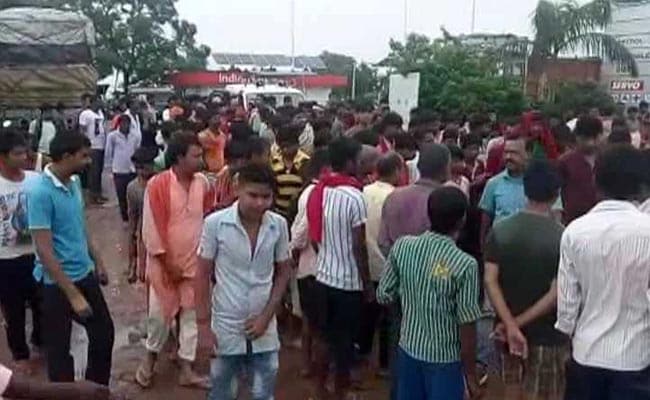 Highlights
Mob led by cow vigilantes attacked truck driver, 2 others yesterday
Police arrest men beaten up, minister promises action against guilty
Left blames Nitish Kumar's alliance with BJP for emboldening vigilantes
Patna:
Three men were beaten up by a mob in Bihar's Bhojpur district yesterday allegedly because they were found to be transporting beef, police said. The driver of a truck and two others were hurt in the incident.
The mob, led by a group of self-styled cow vigilantes, also tried to set on fire the truck which was on its way to Muzaffarpur district. But the police said they foiled the attempt.
The incident occurred in Shahpur near Arrah town, 50 km from Patna, in the afternoon where the mob stopped the truck on suspicion that it was carrying beef.
The three men were arrested after being rescued from the mob, a police official said. Later, protesters blocked the Arrah-Buxar road demanding that the three men be handed over to them - which the police refused to do.
"They will be interrogated whether they were carrying beef or buffalo meat," the police official said. The men have said the meat was of buffaloes.
The people who led the attack were said to be members of the Bajrang Dal. They also demanded action against local policemen who they said were shielding people smuggling beef.
The Left blamed the incident on the BJP, which took charge of the Bihar government in partnership with Nitish Kumar's Janata Dal United after he broke away from an alliance with Lalu Yadav's Rashtriya Janata Dal and Congress last month.
"It is a clear confirmation that BJP has assumed power in Bihar. Now only Hindutva policies will be implemented while he (Nitish Kumar) continues to remain the Chief Minister," CPI(M) General Secretary Sitaram Yechury told reporters in New Delhi.
Newly-appointed Animal Husbandry Minister Pashupati Kumar Paras said, "We will not take any step unless we have solid information. But I can assure you, if anyone is guilty, they will not be spared... It is not about BJP or LJP (Lok Janshakti Party), cow slaughter is illegal." Mr Paras is a member of the LJP which joined the Bihar government along with the BJP last week.
(With inputs from agencies)