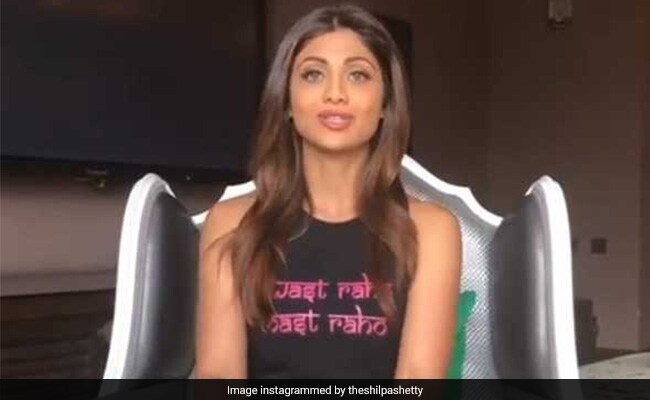 Highlights
Shilpa Shetty addressed her fans on World Health Day.
Shilpa talked about some healthy 'lifestyle modifications' she has made.
"Treat your health as wealth", said Shilpa Shetty.
Bollywood actor Shilpa Shetty, who is also a fitness influencer and the author of two healthy recipe cookbooks, addressed her fans and followers on the occasion of World Health Day today. Shilpa, who has a huge following across social media platforms, shares 'Sunday binge' videos every week, and her fans are delighted to see what the diva indulged in, over the weekend. However, this World Health Day, which is also the 70th anniversary of World Health Organization, Shilpa decided to address the very relevant topics of how to manage indulgence and make mindful dietary choices.
Also Read:
World Health Day: 5 Pillars Of A Healthy Diet To Follow
Shilpa Shetty urged her followers to make some important dietary changes for a better and healthier life, in a video, which she posted on her social media pages. She spoke of some 'lifestyle modifications' which all of us can make, to lead happier, healthier lives. Have a look!
Here are 3 important diet changes Shilpa Shetty wants to you to make on World Health Day:

1. Ditch Refined Sugar: "Research says that sugar is more addictive than cocaine", began Shilpa. The actor said that she has completely removed refined sugar from her life, except on Sundays, which are her 'cheat days'. "I only binge on Sundays", says Shilpa, emphasizing on the need to exercise control. She suggested natural sweeteners as alternatives to refined sugar- gur or jaggery, honey, maple syrup and fruits.
2. Read Lables On Your Food Products: Shilpa Shetty said that it was important to inculcate the habit of lable-reading, because it gives you a clear understanding of what goes inside your food. She suggests turning all your store-bought food products around and carefully reading all their lables.


Also Read:
World Health Day: 5 Food Safety Tips To Avoid Adulteration
3. Mindful Eating: "If you can be mindful of who or what goes inside your house, then you must be mindful of what goes in your tummy", says Shilpa.
Shilpa ends the video with an ominous and cautionary piece of advice: "This World Health Day, treat your health as your wealth, or get ready to lose your wealth and your health!" Point taken, Shilpa!