There have been enough emphasis on including a handful of dry fruits and nuts to one's daily diet. From boosting brain power, to heart health, nuts pack several health benefits, and if the findings of a new study are to be believed about 28 grams or three-four tablespoons of walnuts may help reduce risk of developing type 2 diabetes significantly. Walnuts help in lowering cholesterol levels. They're rich in L-arginine (amino acid) and omega 3 fatty acid (alpha-linolenic acid) - two compounds that have anti-inflammatory properties and prevent the formation of blood clots walnuts prevent signs of ageing because of their antioxidant properties.

The California-based scientists went on to claim that people who consume walnuts may have about half the risk of developing type 2 diabetes compared to adults who do not eat nuts, a study claims.
According to the researchers from the University of California, Los Angeles (UCLA) in the US, the average intake among walnut consumers was approximately 1.5 tablespoons per day. The findings published in the journal Diabetes/Metabolism Research and Reviews, revealed that doubling walnut consumption (eating 3 tablespoons) was associated with a 47 per cent lower prevalence of type 2 diabetes. This amount of walnut intake is close to the recommended serving size of 28 grams or four tablespoons of walnuts.
(Also Read: How To Control Diabetes Naturally: 5 Remedies To Manage Your Sugar Levels)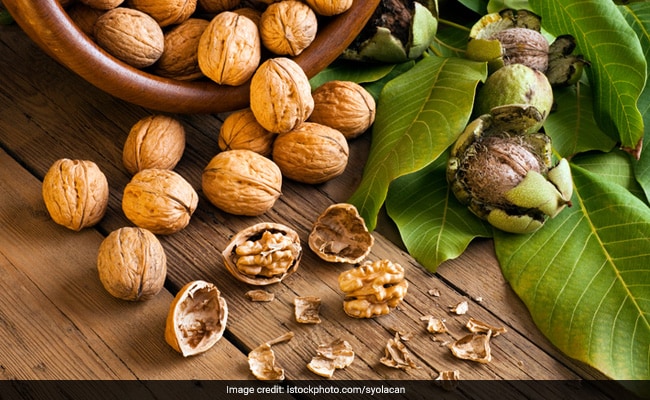 For the study, data from the National Health and Nutrition Examination Survey (NHANES), which draws from a large sampling of the US population was examined in detail.
34,121 adults aged between 18 and 85 years were enquired about their dietary intake, as well as if they had been diagnosed with diabetes or if they were taking medications for diabetes.
They were also assessed using conventional laboratory measurements for diabetes for instance fasting plasma glucose and hemoglobin A1c.
The study revealed that participants who consumed walnuts showed a lower risk for type 2 diabetes compared to those who did not consume any nuts regardless of age, gender, race, education, BMI, and amount of physical activity.
It is a common knowledge that diabetes patients are often at an elevated risk of blood pressure, cholesterol, or triglycerides, which can increase the risk for heart disease and stroke. Walnuts and it's beneficial impact on cardiovascular health, could possibly help keep these risk at bay too.
One of the limitations of the study was that the researchers did not look at the impact of increasing walnut consumption beyond doubled intake. Also, the study was observational, there was no causal effect established between eating walnuts and its direct impact in blood sugar levels.
Get Breaking news, live coverage, and Latest News from India and around the world on NDTV.com. Catch all the Live TV action on NDTV 24x7 and NDTV India. Like us on Facebook or follow us on Twitter and Instagram for latest news and live news updates.