Highlights
The festival of Navratri is commemorated to worship Goddess Durga
o mark these nine auspicious days, devotees observe a nine-day fast
It is recommended to always observe a fast under supervision
Chaitra Navratri 2018
is here and Indians are celebrating the festival with much fervour. The festival of Navratri is commemorated to worship Goddess Durga and her nine avatars for a period of nine days. To mark these nine auspicious days,
devotees observe a ritualistic nine-day fast
in order to seek blessings from the deity. While the nine-day fast can be observed by any devotee, it is said that pregnant women should be extremely careful, considering it is not just the mother but also the foetus that needs essential nutrients through food.
According to Health Practitioner and Macrobiotic Health Coach Shilpa Arora, "It is recommended to always observe a fast under supervision of a medical professional. Keep your body well hydrated with lots of fluids. Also, add fresh fruits and fermented foods."

(Also Read: Which Navratri Fasting Foods Are Healthy And Unhealthy For You?)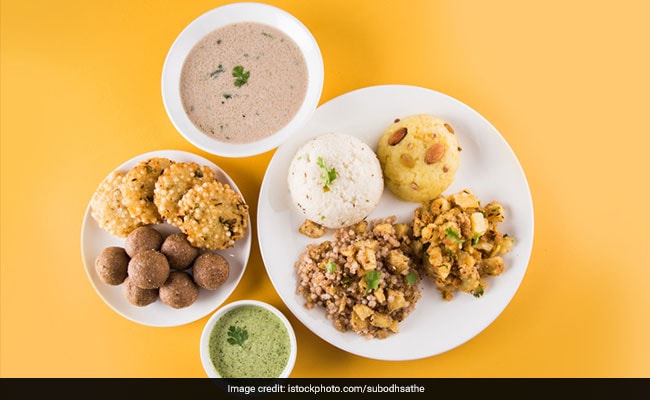 Navratri 2018: It is recommended to always observe a fast under supervision


As per Consultant Nutritionist Dr. Rupali Datta, "Extreme fasting is definitely not recommended for a pregnant woman; which means you cannot be surviving on only fruits or fluids. Navratri fasts are quite flexible, therefore if you feel you must fast, then these fasts are amongst the easier ones to observe. However, at no point should you compromise with the quality and quantity of nutrition.
It is important to eat well-balanced and frequent meals
, consume recommended calories no matter what foods are allowed during the nine-day fasting. Make sure to meet the daily requirement of nutrients so it doesn't hamper the health of mother and the foetus."
Fasting during pregnancy must be observed under strict supervision; here are some tips suggested by our experts to observe a healthy fast during Navratri.
Keep your body well-hydrated not just with water but also other fluids that will help provide essential nutrients. Load up on coconut water, buttermilk, milkshakes or milk and vegetable smoothies.
Under any circumstance, do not deprive your body of food completely. Ensure eating a healthy diet that includes lots of fresh local fruits, fermented vegetables, curd or raita.
Just because you have to fill up doesn't mean you eat anything. Focus on quality of nutrients you put in your body and not quantity.
Fluids are essential; however, avoid drinking fizzy drinks that can hamper your health.
Add cucumbers as they are loaded with minerals essential for pregnant women. Go for sweet potatoes that are rich in iron, beta-carotene and fibre that keep you satiated when you fast.
Eat small and frequent meals to ensure you are not deprived of any nutrient.
Do not avoid consuming enough salt as you fast. Even if you add rock salt or sendha namak, make sure you are eating the recommended quantity. Cutting on salt may lead to weakness and fatigue.
Refrain from starving during fasting. Starvation can lead to weakness, acidity and headaches which may interfere with the well-being of the baby.
Do not get carried away with the festivities; instead, take more rest and recognise the signs of exhaustion.
Do not ignore any sign of fatigue or weakness. Your utmost priority should be yours and your baby's health.

Remember: Your baby is completely dependent on the nutrients you provide yourself with. Ensure a healthy and safe Navratri 2018!

Happy Navratri 2018!