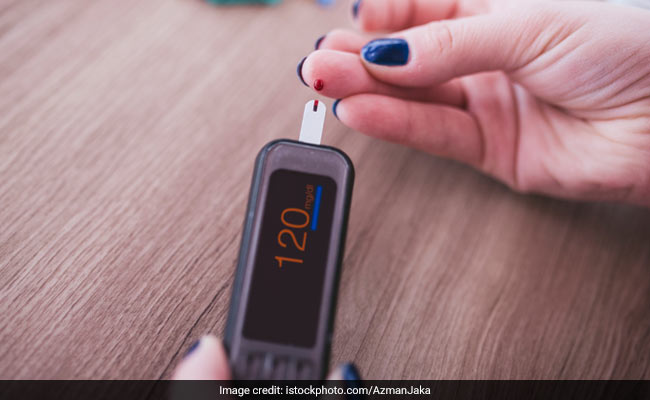 Most health experts advise diabetics to eat fibre- and protein-rich foods and skip carbohydrates and sugar as much as possible to avoid hampering their blood sugar levels. Diabetes is a health condition where the insulin production is inadequate or the body's cells do not respond properly to insulin. Fibre and protein are two important nutrients that slow the absorption of sugar and help reduce spikes in the blood sugar levels. Protein has the potential to contribute to glucose production and stabilise it. On the other hand, body turns carbohydrates into glucose, making blood sugar levels rise. Therefore, one must ensure eating limited amounts of carbohydrates. The idea is to eat everything, but it is important to exercise portion control and ensure consuming essential nutrients. Apart from eating a healthy diet, engaging in exercises and leading a fit life is all you need to manage diabetes well.
When it comes to diabetes diet, there is nothing specific that you need to include, but it simply means eating the healthiest foods in moderate amounts and sticking to frequent mealtimes. Your healthy eating plan should be low in calories but rich in nutrients. When you eat foods high in calories and fat your body responds by creating an undesirable rise in blood glucose levels.
Diabetes: Your healthy eating plan should be low in calories but rich in nutrients
We enlist some amazing diabetes-friendly recipes that are rich in nutrients and are equally delicious.
A nutritious treat, palak dal khichdi is an easy and quick recipe loaded with protein, fibre and other nutrients, without compromising on the taste. Don't forget to add a teaspoon of desi ghee on it to reduce the effect of starch in the rice.
A healthy and delicious treat that is loaded with boiled beans (rajma, chickpeas, hara chana, chawli, et al), spring onions, tomatoes and others. The salad comes under low-glycaemic index foods that help control blood sugar levels. High in vitamin C, this salad recipe is an ideal snack-meal for diabetics.
(Also Read: 5 Bitter Foods Diabetics Should Include In their Diet)
Roasted quinoa pancake bathed in milk, dipped in orange essence and loaded with strawberry, strawberry quinoa pancake makes for a healthy and complete breakfast meal.
Diabetes: Strawberry quinoa pancake makes for a healthy and complete breakfast meal
4. Ragi samosa filled with cucumber, peas and cashew nuts
Move over aloo-filled samosas and give this Indian street food a healthy twist. Make ragi samosas that are filled with all things healthy and nutritious and satiate your samosa cravings like never before.
(Also Read: How To Control Diabetes: 5 Remedies To Manage Blood Sugar Levels)
If you thought lauki, or bottle gourd, is a boring veggie, wait till you try this stuffed lauki recipe. All you need to do is blanch the bottle gourd, marinate it in lime and stuff it with paneer and bake it to perfection.
(Also Read: 7 Healthy Foods That Diabetics Are Advised To Avoid)
We are sure you don't want to miss out on delicious things, so we have got you an amazing chaat recipe that is not only healthy but also delicious. Make some sweet potato or shakarkand ki chaat and satiate your street food cravings at home.
Go on and enjoy your share of these delectable picks and don't miss out on a chance to enjoy good food. However, do remember anything in excess is bad; so make sure you practice portion control.