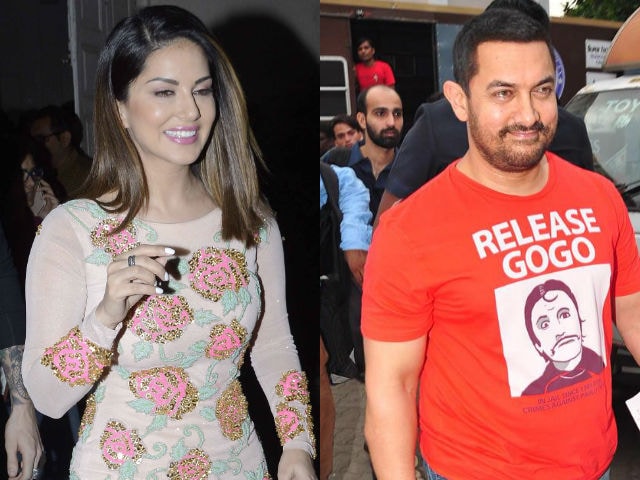 New Delhi:
Let it be known that actor Aamir Khan, who was invoked in a TV interview currently making headlines, will happily work with Bollywood actress Sunny Leone, whose adult film past was made the focus in an interview widely criticized as unfair and judgemental.
Aamir Khan, 50, posted this message for Ms Leone on his
Facebook
page and
Twitter
account: "I think Sunny conducted herself with a lot of grace and dignity in this interview.... I wish I could have said the same about the interviewer. And yes Sunny, I will be happy to work with you. I have absolutely no problems with your "past", as the interviewer puts it. Stay blessed. Cheers. Aamir"
The actress thanked Mr Khan in these tweets:
I think my heart just dropped seeing this!! Thank you so much for the support. It means the world and beyond to me! https://t.co/ayZmahPcIr

— Sunny Leone (@SunnyLeone) January 20, 2016
Wow you just made my whole year saying that! I was just happy you wrote me back :) respect you dearly! :) :) :) https://t.co/j4lxuVuar8

— Sunny Leone (@SunnyLeone) January 20, 2016
Sunny Leone, who stars in next Friday's release
Mastizaade
, has won support on social media after the interview, which has been criticized for suggesting she should be ashamed of and apologise for her past. "You think Aamir Khan would ever work with you?," she was asked. (Also Read -
Sunny Leone Won't 'Disown' Her Past: Full Transcript of Walk The Talk
)
Ms Leone, 34, responded by saying that he probably wouldn't, but that the question ought to be put to the actor himself rather than her.
Mr Khan's public praise of Ms Leone's handling of the difficult interview was preceded by several others from Bollywood who stood firmly by her. Actors Vidya Balan, Rishi Kapoor, Anushka Sharma, Alia Bhatt, Shruti Haasan, Shahid Kapoor, Anil Kapoor and Sushant Singh Rajput tweeted their support of her.
Sunny Leone, the most Googled Indian two years in a row, made her Bollywood debut in 2012 hit
Jism 2
. She was seen last year in
Ek Paheli Leela
and
Kuch Kuch Locha Hai
.
Mastizaade
, which has had some trouble getting past the Censor Board, is her first film of 2016.