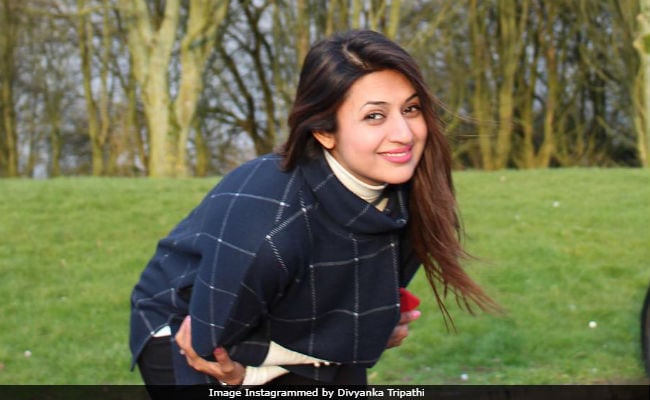 Highlights
Divyanka Tripathi wrote, "Every woman is a Goddess...So respect!"
She was earlier trolled in January for sporting a darker skin colour
"Know me first before judging," wrote Divyanka
New Delhi:
Yeh Hai Mohabbatein
Star Divyanka Tripathi posted a beautiful picture of her with husband Vivek Dahiya on her Instagram. But a troll posted a sick comment and tried
body-shaming
the 33-year-old actress. Divyanka, however, was not in the mood to keep mum, so she replied, "I am proud of my bosom...and no female should be ashamed of it. God has structured us in a manner for a reason. Nothing can be shameful about it. Good, you raised this topic. Humans first started covering themselves to save themselves from heat and cold not from the eyes of some perverts as those eyes didn't exist earlier. Now they do- in you!"
The actress pointed out that the society needs to change their mindset about women and should start respecting them for their 'karma and power' and not by the number of clothes they wear. "Go see Ajanta Ellora and you'll see Indian Gods in their most beautiful natural forms. Every woman is a Goddess and goddesses are not defined by their scarcity or abundance of clothes but by their Karma and Power. So respect!" read an excerpt from her reply.
Here's what Divyanka Tripathi had posted on Instagram and her reply: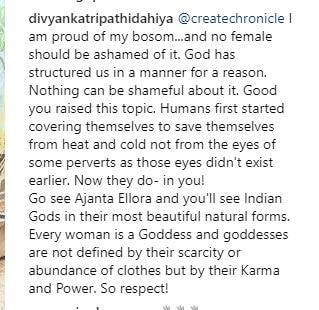 Instagram users supported the actress for her stance and posted sympathetic comments such as "Perfect answer to cheap people" and "Your beautiful thoughts is what makes you diff from others. More power to you." Another user wrote, "Divyanka Tripathi, so proud of you, always giving the right answer, everyone should be proud of how we are structured, if we dress up to please some people, we won't be doing justice to yourself and should always go for what makes you happy and comfortable."
In January,
Divyanka Tripathi was trolled for sporting a darker skin colour
than usual to play a Haryanvi character on the show. To a user, who called her 'disgusting' for dark make-up, Divyanka had replied: "If I chose to be dark... How's it pathetic? Do you find it pathetic? You guys don't even think before bashing! Which Indian actor will voluntarily choose to look dark on screen? It's not usual!" In another comment, she said, "Know me first before judging! I'm doing that makeup myself! Every day! So please... Watch the track, understand and respect instead of writing baseless provocative comments!"
Divyanka Tripathi
is best known for playing Ishita Raman Bhalla on the show
Yeh Hai Mohabbatein
, which also often features her husband Vivek Dahiya, who plays a cop. Divyanka and Vivek got married in July 2016.