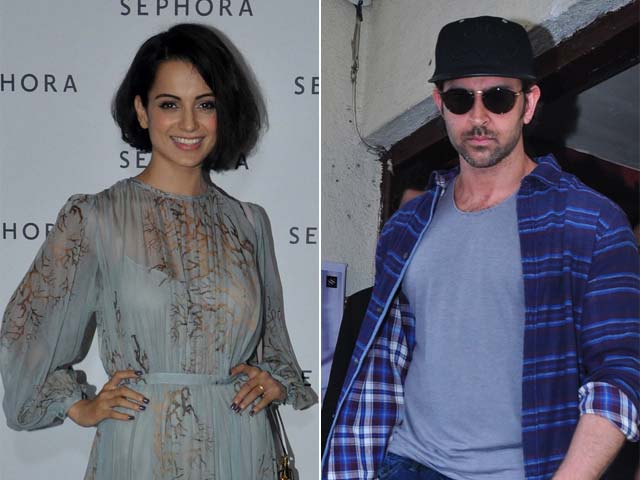 Mumbai:
It was a year ago that Kangana Ranaut in her characteristic candid manner let a secret out that set tongues wagging. She had hinted that she's seeing someone, and her love life is exciting, but she was also treading cautiously since she said that she wanted to ensure everything worked out before making the relationship public. Soon after, it was reported that the mystery man in her life was Hrithik Roshan. But the actor denied the whole report, openly asking the reporter to go see a shrink.
Sources say that this could have been because Hrithik was still dipping his toes in water as far as Kangana was concerned and might have not been sure of the relationship at that time. Sources close to the duo say that they were friends even while working in
Kites
(2010). "Hrithik was going through some trouble in his personal life at that time and he would talk to Kangana about it and that's how they got close and became friends."
The two are said to have got closer during the shoot of
Krrish 3
(2013). After Hrithik's divorce with Sussanne Khan, his wife for 13 years, came through, it seemed like their friendship went to another level. Sources close to the stars say, "Kangana and Hrithik continued meeting each other till the story of their relationship broke out and then Hrithik tweeted denying it all."
Soon, their relationship is said to have blossomed again as "they obviously like fighting with each other", said a source with a smile. "Their on and off relationship has been going on for a while now, even though Hrithik has not spoken about it openly," said the source.
However, a bigger rift seems to have taken place now as a whole new controversy erupted when they were not on talking terms. The entire scene that happened a year ago seemed to play all over again as Kangana in an interview made a telling remark about "exes who do silly things to get your attention", when asked if she was ousted from
Aashiqui 3
starring Hrithik Roshan. Surprisingly, even though she did not take Hrithik's name, he retorted with a tweet saying something to the effect that he would rather go out with the Pope than the wonderful women he's linked with.
While their sly remarks and tweets keep us amused, one should mention that Kangana seems to have won this round with her endearing honesty again. Her reaction to Hrithik's tweet is more direct. "I respect the other person's opinion. It's very likely that a person can have a different perspective of the same situation or rather the past. But then, stick to your stand. Don't contradict yourself and slyly pursue people, spy on them and chase them. So, we sign and seal the deal, and then move on." (Also Read:
What Kangana Ranaut Has to Say About Her Rumoured Affair With Hrithik
)