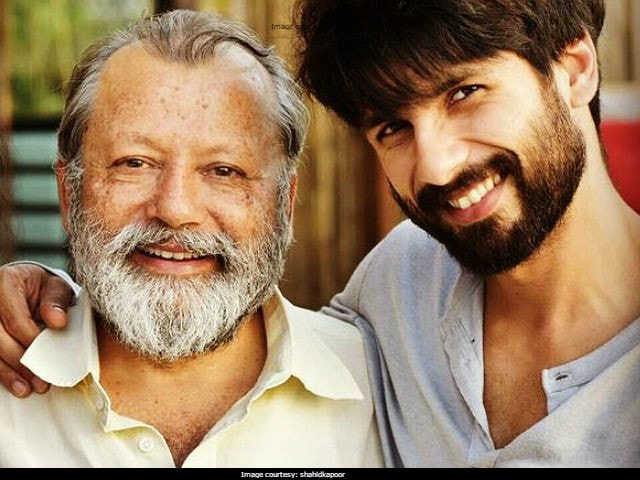 Highlights
'My father doesn't say things till he actually means it,' said Shahid
'So when he says something it makes me very happy, he added
Pankaj Kapur recently attended a private viewing of Rangoon
New Delhi:
Actor Shahid Kapoor, star of
upcoming film Rangoon
, says his most prized compliments are those he gets from his father, actor Pankaj Kapur. "He (Pankaj Kapur) doesn't say things till he actually means it. So I wait for his compliments. I have to do better as an actor, that's the attempt I make. So when my father says something it makes me very happy," Shahid said on Tuesday night in Mumbai, reports news agency PTI. Mr Kapur recently attended a private viewing of
Rangoon
,
courtesy director Vishal Bhardwaj
whose 2003 film
Maqbool
he starred in. "Vishal sir has a long standing relationship with my father. So before showing it (film) to the cast, he shared it with people whose opinion he wanted. So he had called my dad," Shahid said, reports PTI.
The older actor's response to the film and his son's performance in it was most satisfactory. "He just walked out and looked at Vishal sir and told him 'it's difficult to recognise my son in the film'. He said 'I don't see Shahid Kapoor in the film I see Nawab Malik (Shahid's character in
Rangoon
). It's a huge compliment as my father doesn't say things often. He said it during
Haider
. So for me, it was a very emotional moment," said the 35-year-old actor, reports PTI.
The screening of Rangoon
was so private that the actors - including Saif Ali Khan and Kangana Ranaut - were not invited and Shahid only found out about it through his father.
Rangoon
, a war time tale of romantic intrigue, stars
Kangana as a 1940s actress named Jaanbaaz Miss Julia
who is sent by her producer, played by Saif Ali Khan, to entertain the troops in Burma. She falls for soldier Nawab Malik, played by Shahid and there are consequences.
Shahid explained that he now chooses quality cinema over money spinners. "In the last three-four years I have done films like
Udta Punjab
,
Haider
,
Rangoon
and then I have
Padmavati
. I want to do films that are qualitative. If the film is loved and appreciated, it builds a certain trust in audience. If you run after numbers you lose credibility, focus and purpose, because you are just running after numbers. I am trying to build that equity where audience will think I do only quality work," he said, reports PTI.
Rangoon
, releasing on February 24, is Shahid Kapoor's third film with Vishal Bhardwaj after Kaminey and Haider.
(With inputs from PTI)