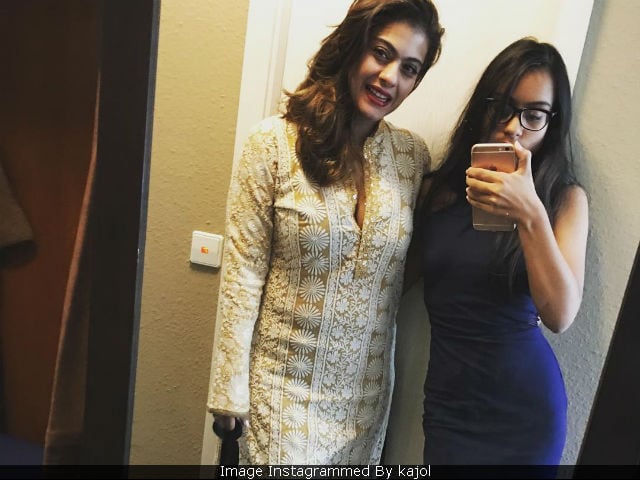 Highlights
'Sometimes she is a little sarcastic,' said Kajol
'She just keeps me in splits most of the time,' Kajol added
'Love her sense of humour,' said Kajol
New Delhi:
It's always a pleasure to meet Kajol - she is frank, in-your-face and as vocal as she can be. Promoting healthy eating for a popular brand of biscuits the actress admits the 'cookie-crumble' moment in her life was soon after she became a mother. "When my daughter was two years old I had slowly become this different person. From what I was before my daughter was born. She taught me so much. So it was like this entire school year - what you learn from first standard to tenth standard packed into a couple of years." Kajol also admitted that if there is one person who gets the better of Kajol, it's her daughter Nysa. "My daughter has a fantastic sense of humour. Love her sense of humour. She just keeps me in splits most of the time. She is so, so witty. Sometimes she is a little sarcastic and she's so funny," said the 42-year-old actress.
Kajol
was also recently trolled by Nysa
on Instagram after she shared a post about her 'babies'. Here's what Nysa wrote in the comments section.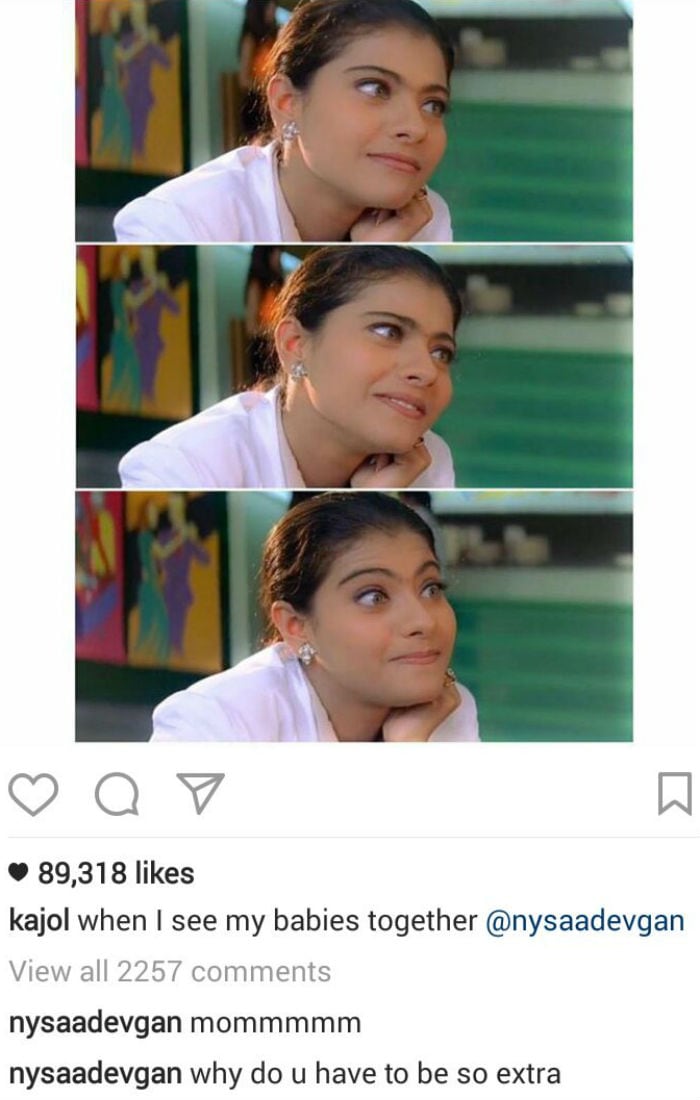 Kajol
is currently working with Soundarya Rajinikanth on her next
, Tamil film
VIP 2
, co-starring Dhanush. It's Kajol's second Tamil film in two decades after
Minsara Kanavu
with Arvind Swamy and Prabhu Deva. Kajol admitted: "I just needed to challenge myself and see how I am in another language." Talking about her character in
VIP 2
, Kajol said: "It's a very interesting character. But i really cannot talk about it too much because my director is really insistent that don't talk about it, don't put it out on social media."
Kajol plays a businesswoman who tangles with lead actor Dhanush in
VIP
- she is reportedly being
considered as the antagonist of the film
. Kajol also featured in a negative role in 1997
Gupt
. "Aree nahi, nothing like that. You wait and watch," said Kajol. So, is she putting the bad into being bad in
VIP2
?
The actress will start working on her second project as a producer next month, which will release in September.
With Bollywood being mocked for its lack of Meryl Streep-like voices, Kajol said: "We do not because of anything else but there is so much of appreciation that comes in and so much of criticism that comes in you are literally castrated if you say something wrong. That's something everyone is weary off and careful and keep their distance from stuff that they don't want to put their feet into. That's fine, I don't see everyone express their opinion on everything and I respect that."
And what's her take on friendships in the industry, with '
unsuitable boys and girls
?' (no pun intended)
"Friendships are friendships all over the world. Everybody has friendships and everybody has issues. I think we are just torn people all over the world. No issues we are people at the end of the day," said Kajol.
So should one go public with their issues or resolve them amongst each other? "Depends on the kind of people you are," Kajol signed off.