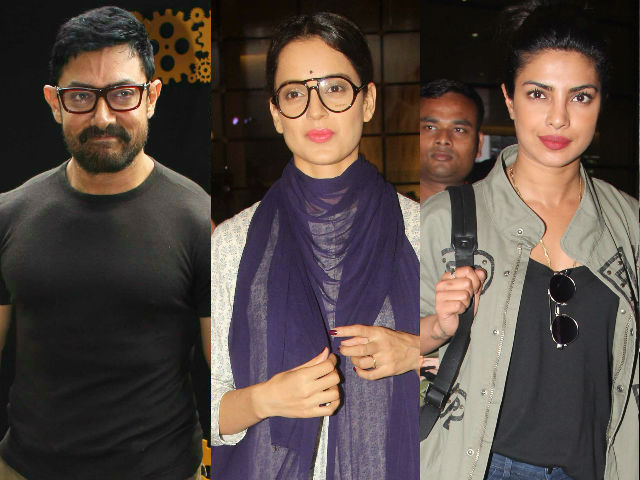 Highlights
Don't think there's anything that should be cut in the film, says Aamir
Amitabh Bachchan was always diplomatic and said 'don't kill creativity'
Censoring reality amounts to delusion, Karan Johar had tweeted
New Delhi:
Drug drama
Udta Punjab
is battling the Censor Board's prescribed 89 cuts, led by co-producer Anurag Kashyap who is campaigning to have the film release in its current form. The changes ordered by chief Censor Pahlaj Nihalani include deleting references to 'Punjab.' On Wednesday, Mr Kashyap and several industry colleagues addressed the press, arguing in favour of the film and freedom of expression. Others from Bollywood, including actors Aamir Khan and Amitabh Bachchan, have also spoken out against the censoring of
Udta Punjab
.
Speaking to the press in Mumbai,
Kangana Ranaut
told reporters: "We have been very concerned with the way things are going. I am not a director, I have never been through the process. But my very close friends and people I closely work with seem extremely disturbed with the way things are; to an extent they feel bullied. I would support them. They are legitimate artistes. They know the process of certification. It's not censorship. We don't have to have that parental attitude towards the audience."
Actress
Priyanka Chopra
said: "Our forefathers achieved freedom of speech and expression for us after a long struggle. Creativity should not be stopped in democracy. It's a certification body and not censor. In democracy you cannot dictate what one should eat or watch a movie on a social issue. Title is the creativity of every producer and director. So, how can it be changed?"
Aamir Khan
said: "This kind of thing reflects very badly on the CBFC. It's a social film which talks about the drug addiction issue of Punjab's youth. It has a good social message. I don't think there's anything that should be cut or not shown to the audience. It's very important that filmmakers have a voice which is not throttled. In any society, the voice of the artiste should be free to speak what he wants to speak. I think the makers of the film are going to the FCAT (Film Certification Appellate Tribunal) in two, three days. My best wishes to the team that it gets justice at the Tribunal."
Amitabh Bachchan
, always diplomatic, chose his words carefully: "I am not quite aware of what the issue is. I have been reading about it. All I can say is that don't try and kill creativity. If you kill creativity, you kill the soul and that is all that we (artistes) have. That would be detrimental. I know that there are rules and regulations. That's something that the government has to decide. But as an artiste and a creative person, all I can say is that don't kill creativity. It is unfortunate that there is going to be a delay that they have to fight their way through the High Court. In the past, my films were denied release and we had to go to higher authorities. Eventually, creativity won. But yes, delay was something that one had to cope with."
Shyam Benegal, who heads the government-appointed revamp panel of the Central Board of Film Certification, said: "If you ask me technically, it's a very well-made film."
On Thursday he told news agency ANI:
Its an important film, it brings to the fore a very big problem: Shyam Benegal on #UdtaPunjabpic.twitter.com/N80oujhbjT

— ANI (@ANI_news) June 9, 2016
You cannot think that everything will fit in the same set of rules, films are not made in a factory: Shyam Benegal #UdtaPunjab

— ANI (@ANI_news) June 9, 2016
Filmmaker Shekhar Kapur, who has made films like
Masoom
and
Bandit Queen
, also tweeted:
If u truly believe in ur film then u must be willing to fight to the end. We did with Bandit Queen all the way to Supreme Court #UdtaPunjab

— Shekhar Kapur (@shekharkapur) June 9, 2016
In his
new column for NDTV.com
, filmmaker
Karan Johar
wrote that he was "suffering the side effects of a relatively new affliction called Censorrhoea. Also known as Censoritus. And it might be about to become an epidemic."
He explained: "I'm deeply stressed as a filmmaker, and I know I'm not alone. The censorship crisis, the moral policing, the politics of it has most of us on edge. I'm scared to use certain words: like if I use "Bombay", will there be a problem?... And now, Punjab is apparently off limits."
Mr Johar, who was directed by Anurag Kashyap in
Bombay Velvet
, also tweeted:
#UdtaPunjab speaks of the reality of our times....censoring reality amounts to delusion.....the fraternity has to stand by what's right!!

— Karan Johar (@karanjohar) June 6, 2016
Others apart from Karan Johar expressed their outrage on Twitter, including Alia Bhatt who stars in the film:
#UdtaPunjabpic.twitter.com/1T0LIsceyd

— Alia Bhatt (@aliaa08) June 7, 2016
I really dont know what #UdtaPunjab should be renamed to... But the Censor Board can surely consider the name #UdtaMazaak.

— Sonakshi Sinha (@sonakshisinha) June 9, 2016


This one s for #UdtaPunjab s Tommy Singh urf @shahidkapoor !!! We all behind u n the film brother !!! pic.twitter.com/0Bpyu4428A

— Arjun Kapoor (@arjunk26) June 9, 2016
Stay strong @anuragkashyap72 Great to see the Bombay film industry rally around #UdtaPunjab in full force.Curbing of artists is disturbing!

— Siddharth (@Actor_Siddharth) June 9, 2016
Power is the most dangerous addiction of all & someone in the CBFC seems to be tripping hard on Lassi in the Sky with Diamonds. #UdtaPunjab

— Farhan Akhtar (@FarOutAkhtar) June 7, 2016
Certification not censorship. We the people of India will decide what films we want or do not want to watch. #CBFC#UdtaPunjab

— Dia Mirza (@deespeak) June 8, 2016
When you tear out a man's tongue, you are not proving him a liar,you're only telling the world that you fear what he might say. #UdtaPunjab

— Gauri Shinde (@gauris) June 8, 2016
Anyone who says that drugs are not a problem in punjab is either unaware,complicit or has malafide intention #UdtaPunjab@_phoenix_fire_

— soha ali khan (@sakpataudi) June 6, 2016
U know a lot of people in our fraternity speak up for other causes, it's time we stood up for our own. #UdtaPunjab deserves a proper release

— Arjun Kapoor (@arjunk26) June 7, 2016
Can the truth defame a state? #UdtaPunjabCensored

— Hansal Mehta (@mehtahansal) June 6, 2016
Delusion or collusion? Why is the establishment so scared of films that mirror reality? #UdtaPunjabCensored

— Hansal Mehta (@mehtahansal) June 6, 2016
On Wednesday, top filmmakers attended a press conference to say they stood with Mr Kashyap.
Mahesh Bhatt:
The year is 2016, we have a globally connected population. All the talk of growth and progress is poppycock if the freedom of our founding fathers is taken away. Do you want to turn India into Saudi Arabia?
Zoya Akhtar:
There are many things which are made which offend me by how they portray women. But I cannot stop them. I can choose not to buy the ticket.
Udta Punjab
needs to release, denying a problem does not help it.
Udta Punjab
's lead actor
Shahid Kapoor
: Let us make sure we fight for what this country stands for.
Imtiaz Ali:
Anything that attacks the freedom of speaking is frustrating...we don't need to tolerate it unnecessarily.
Udta Punjab
is slated for release on June 17 and Mr Kashyap told NDTV he hopes to be able to release his film on that date without changes. He has made it clear that "Punjab" cannot be separated from the film.
Mr Kashyap had strong words for the Censor Board on Twitter:
It's my fight Vs a dictatorial man sitting there operating like an oligarch in his constituency of censor board, that's my North Korea

— Anurag Kashyap (@anuragkashyap72) June 7, 2016
Directed by Abhishek Chaubey,
Udta Punjab
deals with Punjab's drug problem and stars Shahid Kapoor as a drug addicted rockstar, Alia Bhatt as a Bihari migrant, Kareena Kapoor Khan as doctor and Diljit Dosanjh as a cop.