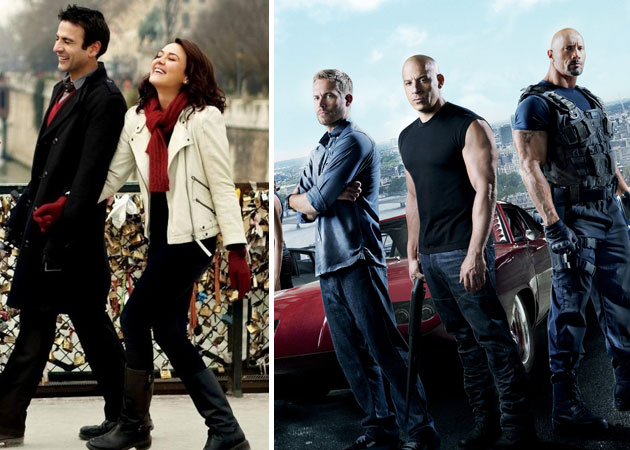 Highlights
Today, Preity Zinta's ambitious project Ishkq In Paris will finally see the light of the day. If you are in the mood for thrills, there's action-packed Hollywood film Fast & Furious 6.
Ishkq In Paris is produced by Preity Zinta and directed by Prem Raj. It features Rhehan Malliek, Shekhar Kapur and French actress Isabelle Adjani, besides Preity Zinta.
Ishkq In Paris, which is shot mainly in Paris and Lyon and Prague with some scenes shot in India, is a Parisian love story. The film follows Akash (Rhehan) and Ishkq (Preity), who meet in a train from Rome to Paris and end up spending the evening together. Due to Ishkq's 'no baggage' pact, both know that this will probably be their only night together.
The storyline has a strong resemblance with the 1995 Hollywood film Before Sunrise, which featured Ethan Hawke and Julie Delpy.
The music of the film was launched by Salman Khan, who has also danced to the tunes of the song Kudiya Di Kurti in the film.
The film was supposed to release last year but was delayed due to director Prem Raj who was diagnosed with cancer of the gall bladder.. "Prem was very sick. He had to go for a surgery. I decided not to release the film without him. He is not just my director, but also a good friend," Preity said.
For Preity Zinta, Ishkq In Paris has been the toughest film so far. "Till now I considered Lakshya my toughest film but after shooting for Ishkq In Paris, I realised that the latter has taken over that tag," said Preity the actress.
"I went 18,000 feet above sea level for Lakshya and I used to get blue on my face and for Ishkq In Paris when we began to shoot, it started snowing in Paris. All this made me realise that nothing comes easy in life, one has to work hard for it," Preity added. Next up for release is Hollywood film Fast & Furious 6. An action film directed by Justin Lin, it is the sixth installment in the Fast And The Furious film series.
The film will see Vin Diesel, Paul Walker, Dwayne Johnson, Jordana Brewster and Tyrese Gibson reprising their roles in the sixth edition too.
Two more Bollywood films will release today. Romantic film Hum Hain Rahi Car Ke which is directed by Jyotin Goel will face the music at the box-office too.
It features Adaah Sharma and Dev Goel in the lead with guest appearances from actors like Sanjay Dutt, Anupam Kher, Juhi Chawla and Chunky Pandey.
Veena Malik's Zindagi 50:50 will also release today. Directed by Rajiv S Ruia, the film features Riya Sen and Arya Babbar, besides Pakistani actress Veena.
(With IANS inputs)
New Delhi:
Today, Preity Zinta's ambitious project
Ishkq In Paris
will finally see the light of the day. If you are in the mood for thrills, there's action-packed Hollywood film
Fast & Furious 6
.
Ishkq In Paris is produced by Preity Zinta and directed by Prem Raj. It features Rhehan Malliek, Shekhar Kapur and French actress Isabelle Adjani, besides Preity Zinta.
Ishkq In Paris
, which is shot mainly in Paris and Lyon and Prague with some scenes shot in India, is a Parisian love story. The film follows Akash (Rhehan) and Ishkq (Preity), who meet in a train from Rome to Paris and end up spending the evening together. Due to Ishkq's 'no baggage' pact, both know that this will probably be their only night together.
The storyline has a strong resemblance with the 1995 Hollywood film
Before Sunrise
, which featured Ethan Hawke and Julie Delpy.
The music of the film was launched by Salman Khan, who has also danced to the tunes of the song
Kudiya Di Kurti
in the film.
The film was supposed to release last year but was delayed due to director Prem Raj who was diagnosed with cancer of the gall bladder.. "Prem was very sick. He had to go for a surgery. I decided not to release the film without him. He is not just my director, but also a good friend," Preity said.
For Preity Zinta,
Ishkq In Paris
has been the toughest film so far. "Till now I considered
Lakshya
my toughest film but after shooting for
Ishkq In Paris
, I realised that the latter has taken over that tag," said Preity the actress.
"I went 18,000 feet above sea level for
Lakshya
and I used to get blue on my face and for
Ishkq In Paris
when we began to shoot, it started snowing in Paris. All this made me realise that nothing comes easy in life, one has to work hard for it," Preity added.Next up for release is Hollywood film
Fast & Furious 6
. An action film directed by Justin Lin, it is the sixth installment in the
Fast And The Furious
film series.
The film will see Vin Diesel, Paul Walker, Dwayne Johnson, Jordana Brewster and Tyrese Gibson reprising their roles in the sixth edition too.
Two more Bollywood films will release today. Romantic film
Hum Hain Rahi Car Ke
which is directed by Jyotin Goel will face the music at the box-office too.
It features Adaah Sharma and Dev Goel in the lead with guest appearances from actors like Sanjay Dutt, Anupam Kher, Juhi Chawla and Chunky Pandey.
Veena Malik's
Zindagi 50:50
will also release today. Directed by Rajiv S Ruia, the film features Riya Sen and Arya Babbar, besides Pakistani actress Veena.
(With IANS inputs)