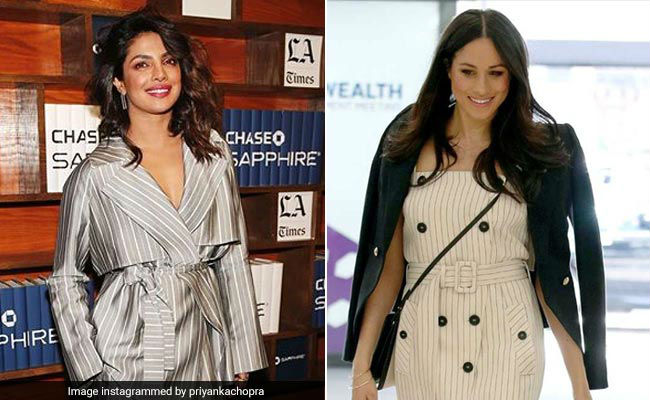 Highlights
"Her compassion, evident in the causes she supports," she wrote
Meghan Markle and Prince Harry will marry next month
Her fans have every expectation that she will be Meghan's wedding guest
New Delhi:
Actress
Priyanka Chopra plays a supporting role in Time Magazine's 2018 list
of 100 Most Influential People, having written an essay for
Suits
star and soon-to-be royal Meghan Markle. Ms Markle has been honoured on this year's list as has her fiancee Prince Harry. Both feature on the list under the Leaders category, with Donald Trump, Satya Nadella, Justin Trudeau, Sheikh Hasina, Emmanuel Macron, Shinzo Abe and others. It is a particularly exalted section, and the authors of the featured bios also include Elton John (who wrote for Prince Harry), Sheryl Sandberg and Benicio Del Toro.
In an Instagram post, Priyanka Chopra shared her own Time 100 cover from two years ago and wrote, "Happy to have had the opportunity to share my thoughts about Meghan Markle, one of this year's honorees and my friend, with the world."
Priyanka writes that her friendship with Meghan Markle grew over "biryani, poutine and endless conversations" and predicts that Ms Markle, "standing shoulder to shoulder with Harry, will be a princess for the people." Read her full piece below.
Meghan Markle and Prince Harry will marry next month
, and Priyanka's fans have every expectation that she will be a wedding guest, maybe even a bridesmaid.
Both actresses have documented their friendship on Instagram and while Meghan Markle exited social media some time ago in preparation for life as a royal, Priyanka's account still contains these posts:
Read Priyanka Chopra's Time 100 essay for Meghan Markle:
"Somewhere among biryani, poutine and endless conversations, I realized just how deeply Meghan Markle cares for the world. With her, what you see is real, and what you get is a relatable young woman with her heart and mind in the right place. Her compassion, evident in the causes she supports, and her drive to break down stereotypes-obvious in her actions-will connect her to a generation in much need of kindness.
"This ever-smiling, strong free spirit found her prince, fell in love and in turn made a cynical world believe in fairy tales again. But more than anything else, Meghan is an important influencer in a world that needs strong public figures to respect and look up to. People the world can be inspired by. Meghan, standing shoulder to shoulder with Harry, will be a princess for the people.
"Love always, my friend. Live happily ever after."