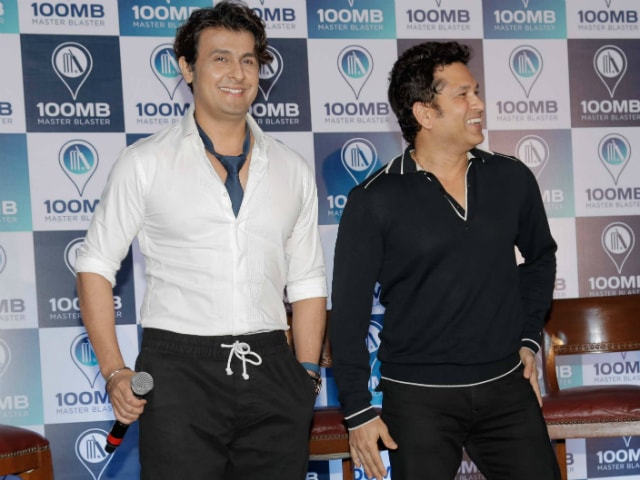 Highlights
"I did not practice much," Sachin said
It is a cricket-themed song
Naacho, Naacho, Naacho Sari Cricket Wali Beat Pe will release on April 2
New Delhi:
The secret behind singer
Sonu Nigam
and cricketer
Sachin Tendulkar's mysterious picture
, which went viral on social media, has been revealed. The former Indian cricketer, who recently launched his app, 100MB, told reporters that he is making his singing debut with Sonu Nigam and the picture is proof of their singing collaboration. The song is reportedly a cricket-themed song titled
Naacho, Naacho, Naacho Sari Cricket Wali Beat Pe
. The 43-year-old master blaster of India was quoted by
DNA
as saying: "I have always been fond of music. I never thought I would sing a song. My wife (Anjali) is the brain behind me singing this song. It was her idea. She was the only one who believed I could sing."
People will keep guessing, until it's officially revealed. But, for sure, both of you are looking amazing & pic is legendary. Blessings. pic.twitter.com/JM3LT2HLQP

— Anup Jalota (@anupjalota) March 30, 2017
Sonu Nigam's fan shared another picture, which was re-tweeted by the singer.
This picture is my favorite #LegendsTogether
Love you both pic.twitter.com/ycn1TATMVC

— Harisha SONUholic (@HarishaSNPK) March 31, 2017
The role reversal picture, which got multiple shares on Twitter, features
Sachin holding the mic
and Sonu a bat. The Bharat Ratna award-winner revealed that he "didn't practice much."
DNA
quoted the cricketer as saying: "I did not practice much. It was just then and there that I sang. I heard the tune. I quite liked it. After that, I was asked to practice a little bit, which I did in the studio. Before that, I had not practiced much. I was used to listening to music and humming songs. It helped." The song will reportedly be launched on April 2.
Sachin
's love for music is a well-known fact as earlier this year he shared the stage with Ustad Zakir Hussain and played tabla.
Sharing the stage with the Ustad & sharing beats that created a rhythm so unique. It's an experience I'll hold close to my heart, always pic.twitter.com/V4VSsrKign

— sachin tendulkar (@sachin_rt) January 10, 2017
Sonu Nigam
, who was also there at the launch event of Sachin's app, was all praises for the cricketer and mentioned that he didn't require a "pitch corrector" and that he is "blessed with something divine".
DNA
quoted the singer as saying: "People fall in three categories - talented, genius and blessed. Sachin falls in the blessed category. I first heard him sing and told the composer Shamir Tandon that Sachin is one to whom god has given something extraordinary. He is blessed with something divine. The master batsman had the right pitch. It was a heartening feeling. We did not have to use the pitch corrector for Sachin. He did a very good job without the pitch corrector."
Musicians like
Wajid Khan and Rahat Fateh Ali Khan
congratulated Sonu Nigam for the collaboration.
Wow both living legends in one frame n singing this is Interesting @sonunigam plays cricket v well Let's check @sachin_rt singing:))) https://t.co/ORuBp5fkKX

— Wajid Khan (@wajidkhan7) March 31, 2017
Arre bhai... Me playing cricket well kinda compliment from you, is special.. :) Sachin by the way doesn't need a pitch corrector. :) love u https://t.co/sqxZIcAXqb

— Sonu Nigam (@sonunigam) March 31, 2017
Mubarak Ho Sonu Bhai @sonunigam it's been a long time aur Bohot Accha Lagaa Aap Ke Saath Yeh Gaana Kur Ke. Jald Miltey Hein @TimesMusicHub

— Rahat Fateh Ali Khan (@RFAKWorld) March 31, 2017
Aapko bhi mubarak bhai... Kal hi aapka zikr Mirchi ke Suren se kar raha thha. Hamaare aapsi khuloos ke baabat. Jald milte hain. :) https://t.co/k7vuQP0203

— Sonu Nigam (@sonunigam) March 31, 2017
Sachin also clarified that singing is a one-off for him and he would not venture into it much. He is also coming up with his biopic titled,
Sachin: A Billion Dreams
. Lat month, Sachin shared the official poster of his biopic.
The answer to the question that everyone's asking me is here. Mark your calendars and save the date. @SachinTheFilm releases 26.05.17 pic.twitter.com/aS0FGNjGKY

— sachin tendulkar (@sachin_rt) February 13, 2017
The movie, which is directed by James Erskine, stars Sachin Tendurlkar, his son Arjun Tendulkar and actor Mayuresh Pem in pivotal roles.
Sachin: A Billion Dreams
is scheduled to hit the theatres on May 26.