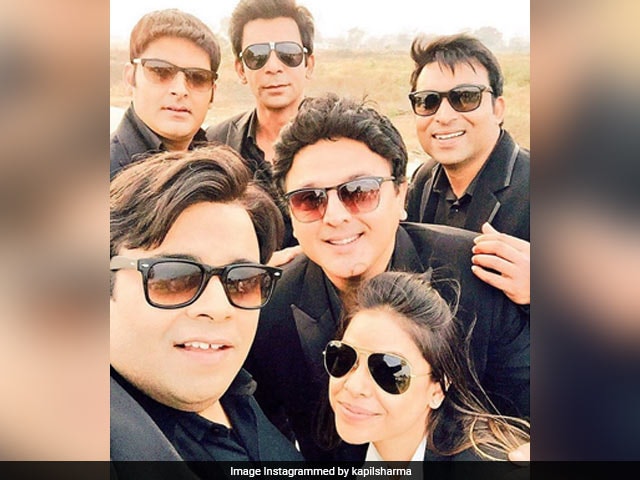 Highlights
Chandan Prabhakar, Ali Asgar were also part of Kapil's previous show
'Sunil won't return,' revealed a source
Mr Grover exited previous show citing payment issues
New Delhi:
It appears that comedian-actor Kapil Sharma's public apology to co-star Sunil Grover has done little to mend bridges, not only with Mr Grover but also other actors on The Kapil Sharma Show. An episode that was recorded on Monday - after Mr Sharma allegedly assaulted Mr Grover on a flight - was reportedly shot without actors Chandan Prabhakar and Ali Asgar, cast members who portray significant parts in
The Kapil Sharma Show
, reported
dnaindia
. A source close to the show also told
dnaindia
that Mr Grover, who is reported to have quit the show, is allegedly resolute about not returning. "Clearly there are major upheavals happening on The Kapil Sharma Show. Sunil won't return. Ali and Chandan too boycotted the show. That leaves only Kiku sharing the platform with Kapil. Of course, Navjot Singh Sidhu who is very close to Kapil, also remains. But for how long?"
dnaindia
quoted the source as saying.
Producers, however, claim that the actors had no roles in the episode that was filmed, which is why they were not there. A second episode is scheduled to be filmed soon.
Sunil Grover has reportedly notified Sony Entertainment, the television channel which airs The Kapil Sharma Show, that he's quit the show. "Sunil has decided not to return to the show. He is contractually bound with the Channel (Sony Entertainment) and not with Kapil Sharma's production house. Sunil has already made it clear to Sony that he cannot return to the show after Kapil's unruly conduct," the source told
dnaindia
.
Times Of India also reports that Sunil Grover has quit. Indian Express quotes Kapil Sharma as saying he didn't know if Mr Grover had exited and would ask him in person. This disclaimer could simply be part of Mr Sharma's attempts at damage control - in separate posts on Facebook and Twitter, he has downplayed the spat, passing it off as a 'family matter' and later tweeting about visiting Mr Grover at his home.
Chandan Prabhakar, Ali Asgar, Kiku Sharda and Navjot Singh Sidhu were also part of Kapil Sharma's's previous comedy series
Comedy Nights With Kapil
, which starred Mr Grover as Gutthi and which he quit over payment issues.
Tuesday witnessed a showdown between the warring comedians on social media. Sunil Grover's response to Kapil Sharma's apology was a post berating him for 'acting like God.' It also read: "Thanks for making me realise it was your show and you have the power to throw out anybody, anytime."
Read Mr Sharma's apology and Mr Grover's response:
Paji @WhoSunilGrover sry if I hurt u unintentionally.u knw vry well how much I luv u. M also upset .love n regards always:)

— KAPIL (@KapilSharmaK9) March 20, 2017
From a friend, with love @KapilSharmaK9pic.twitter.com/2c7uQ5jqH5

— Sunil Grover (@WhoSunilGrover) March 21, 2017
Kapil Sharma, who was allegedly drunk, is accused of being abusive to Sunil Grover on a flight from Melbourne. In a Facebook post on Monday, Mr Sharma admitted to 'arguing' with Mr Grover and questioned the motives of eyewitnesses who claimed that he had assaulted Mr Grover.
Over the weekend, Kapil Sharma also revealed on social media that he is engaged - the post is now being criticised as an attempt to deflect attention from the alleged assault.
Sunil Grover featured as two characters, Dr Mashoor Gulati and Rinku Bhabhi, on
The Kapil Sharma Show
.