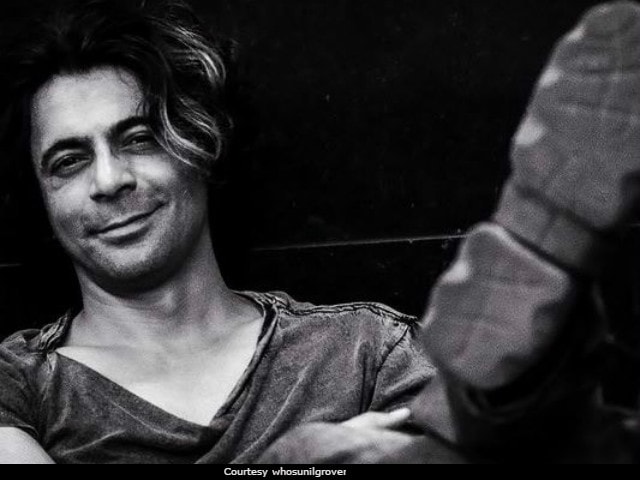 Highlights
"Shoe Size US 10," Sunil Grover captioned the pic
Mr Sharma is accused of hitting Sunil Grover with a shoe on a flight
Sunil Grover is believed to have quit Kapil Sharma's show
New Delhi:
Former colleagues Sunil Grover and Kapil Sharma may not be talking in real life but
there's still social media
. Both comedians have used their social accounts to communicate after Mr Sharma allegedly assaulted Mr Grover on a flight. Mr Grover's latest Instagram post - addressed to nobody in particular - seems random but is very revealing when you consider that Kapil Sharma is accused of hitting him with a shoe. The post is actually a photograph of the actor but with complete focus on his shoe, the caption of which reads: "Shoe Size US 10." The shoe element of the alleged midair bust-up was referenced by columnist Twinkle Khanna who recently wrote in
Times Of India
, "Please note, footwear is also apparently yet another trendy weapon these days."
For those who need to know, Sunil Grover wears size 10:
Weeks ago, Kapil Sharma allegedly had a meltdown on a flight out of Melbourne while drunk. Anonymous eyewitness accounts claim that the 36-year-old comedian began railing at his cast mates for eating without waiting for him to finish his drink and then attacking Sunil Grover when he attempted to smooth things over.
Mr Grover didn't shoot for the episode of
The Kapil Sharma Show
that was recorded after the alleged assault and has not returned.
He is believed to have quit
, although this has not been officially announced, and addressed reports that he was being wooed back by a salary hike in this tweet:
My intentions are to act and to entertain with dignity. For me, money can't be the only reason to do something, or not to do something.

— Sunil Grover (@WhoSunilGrover) April 5, 2017
Kapil Sharma, after first writing a Facebook post in which he claimed the alleged assault was just an 'argument,'
tweeted an apology to Sunil Grover
. In response, Mr Grover advised him not to 'act like God.'
Mr Sharma is now believed to
have abandoned attempts to get Mr Grover to return
.
Kapil Sharma Show
has added comedian Raju Srivastava to its cast but ratings have seen a dip. Currently, the show has more dislikes than likes on YouTube for the episodes shot
after Sunil Grover's exit
.
Sunil Grover has since performed as Dr Mashoor Gulati and Rinku Bhabhi, the characters he played on
The Kapil Sharma Show
, at a show in New Delhi and on the finale of
Indian Idol 9
. There are reports that he's been offered a show of his own, possibly on the same TV channel that airs the series headlines by Kapil Sharma.