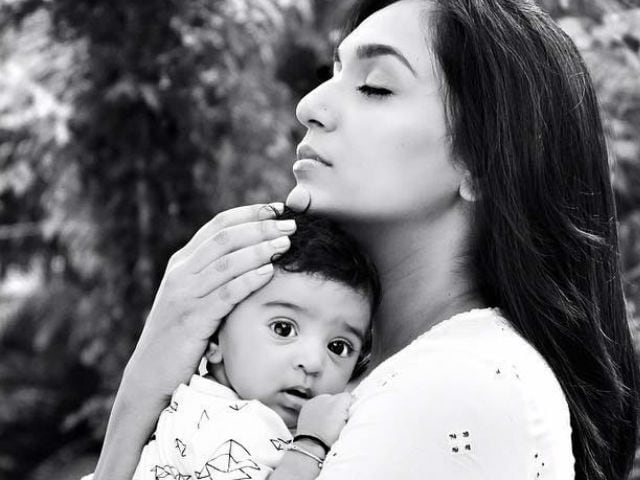 Highlights
Shevta Salve, married to Hermit Sethi, welcomed her daughter in August
She says woman's body achieves its true form of praise after child birth
Remember you are beautiful - inside and out, she wrote
New Delhi:
Television actress Shveta Salve, who gave
birth to a baby girl
on August 10, shared an inspiring message for women who thought changes in their body post pregnancy is not good. The
Hip Hip Hurray
actress in an Instagram post said: "A woman's body is magical and no wonder great artists, sculptors, poets, painters have in so many ways tried to beautify it. But it achieves its true form of praise after this transformation (child birth)." Shveta shared the post with a split image of herself with a baby bump from her pregnancy days on left and holding her baby after the birth on right.
Shveta writes that nothing is like before, "not my arms nor my thighs" but says that she's never been this proud of her body. She writes that journey reflects the miracle of life and "So be proud my fellow mommies and mommies-to-be." She signed off saying: "Remember you are beautiful - inside and out."
Read Shveta Salve's post on bodyshaming:
More power to you Shveta.
Earlier, Hollywood actress Anne Hathaway, whose son was born in April this year,
shared a similar message
with her fans. "There is no shame in gaining weight during pregnancy (or ever). There is no shame if it takes longer than you think it will to lose the weight (if you want to lose it at all). Bodies grow. Bodies shrink. It's all love (don't let anyone tell you otherwise.)"
Shveta married actor Hermit Sethi in 2012 and the couple welcomed their first child on August 10. Weeks before the arrival of the baby, Shveta's blog on her impending motherhood and a letter to her baby went viral.
Shveta Salve
has featured in television shows like 2002's
Lipstick
and 2001's
Kaahin Kissii Roz
and was last seen in 2015's
Ek Tha Chander Ek Thi Sudha
. She's also featured in films like 1999's
Pyaar Mein Kabhi Kabhi
, 2011's
Dil Toh Baccha Hai Ji
and 2013's
Kurukshetra
.